The Top 50 Black Gate Posts in November
The Top 50 Black Gate Posts in November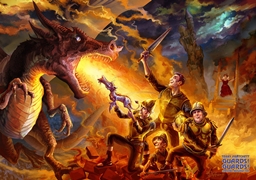 The most popular article at Black Gate last month was M. Harold Page's "An Adventurer's Guide to the Middle Ages: Town Watch? Where?", a look at the much-loved concept of a citizen's militia in fantasy. It's not hard to see why it was popular:
The first thing that Conan — or Locke Lamora, or Grey Mouser, or Vimes, or a D&D party  — would notice about a real medieval city would be the almost total absence of an Ankh Morpork-style town watch.

It's a stock trope: here come a dozen Keystone Cops town watch in their funny armour, to arrest the drunken barbarian or catch the thief. Only it's not like that in reality, or at least not quite like that in Later Medieval and Early Modern England, France, and Germany.

That's not a criticism. Fantasy writers must write what they will. Dickensian thief takers are plausible, and raise themes to do with policing and justice. However, if, like me, you write Historical Adventure Fiction , then you need to know how policing worked because integrity, and because somebody else will know and will gleefully correct you in reviews. (It's funny when your research is better than theirs though — and the one time I ever answered a review.)
Back in March, Thomas Parker's asked our readers to "Tell Me Why," demanding to know why fantasy fans embrace "ambitious, multivolume phone book series." Sarah Avery's long-gestating response, "Why Do We Do This To Ourselves? I Can Explain!", the latest installment in her Series Series, clocked in at #2 for the month.
Number 3 was Jackson Kuhl's report on the recent dust-up over the World Fantasy Award trophies, "S.T. Joshi Is Mad as Hell," proving once again that nothing taxes our server like controversy. The first installment in John R. Fultz's entertaining look back at classic 70s Conan comics, "The Great Savage Sword Re-Read," came in at #4, and rounding out the Top Five for the month was Fletcher Vredenburgh's review of one of the most famous fantasy novels of the 70s, Lord Foul's Bane.
The complete list of Top Articles for November follows. Below that, I've also broken out the most popular overall articles and blog categories for the month.
The Top 50 Black Gate posts in November were:
There were plenty of older articles popular lat month as well. The 20 most popular blog posts written before November were:
The top categories last month were:
The Top 5o Black Gate blog posts in October are here, and you can see all 144 posts we made in the month of November here.