Goth Chick News: A Final Report of the Commercial Starship Nostromo, or The Alien Saga Continues…
Goth Chick News: A Final Report of the Commercial Starship Nostromo, or The Alien Saga Continues…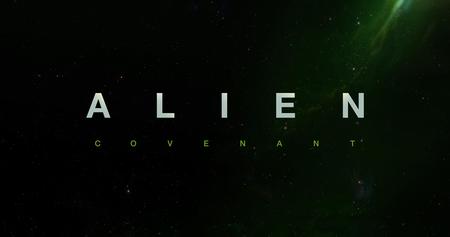 Normally, I have a personal rule against covering the same topic twice in so many weeks. Primarily this is because I have an extremely short attention span and I assume you do as well.
But I just couldn't let this go.
Last week we joined together to lament the assumed loss of a true Aliens sequel directed by Neill Blomkamp and ignoring the mediocre efforts that were Alien 3 and Alien 4. We also shook our collective fists as the mercurial Ridley Scott who, after foisting Prometheus upon us, originally threatened to continue the torture with Prometheus 2, but instead took a hard left turn and commandeered the Aliens sequel by turning it into connective tissue between the Prometheus and Alien storylines.
We knew this from reading cryptic Ridley Scott quotes during which he referenced if not clarified his new project entitled Alien: Paradise Lost.
However, no sooner had we begun to get our brains around this when last Friday the newswire was abuzz with fresh Scott quotations, stemming from his Thursday evening appearance and the AFI Festival (American Film Institute).
According to IndieWire, Scott remarked that the project formerly known as Alien: Paradise Lost will now be called Alien: Covenant.
But buckle up, because there's more.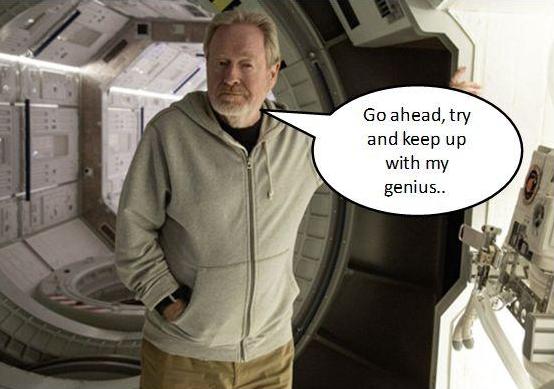 The film is still intended to be a sequel to Prometheus and will indeed bridge the space between that film the rest of the Alien franchise.
Alien: Covenant will follow the original speculated line of inquiry as to why, how and when the Xenomorph was invented. But in substituting a reference to John Milton for one to the Old Testament pact between God and Abraham, Scott suggests that Covenant will focus less on humanity's fall from grace and more on our tenuous continuing relationship with powers greater than our own.
So the Xenomorph is God's "ultimate solution" for that whole forbidden fruit thing?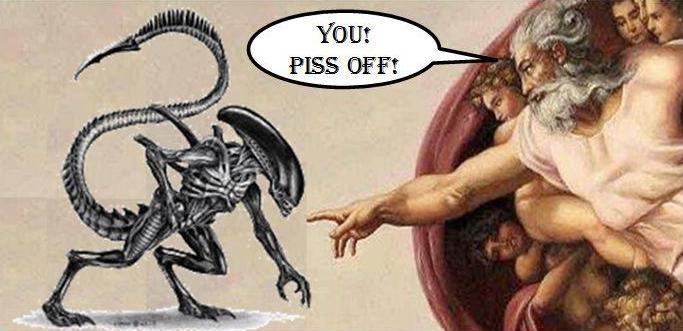 Ripley is never going to be Mrs. Ellen Ripley-Hicks, is she…
Never a company to miss out on a press opp, 20th Century Fox went ahead confirmed the new title of Ridley Scott's Alien: Covenant a couple days later, and announced that the film will hit theaters October 6, 2017.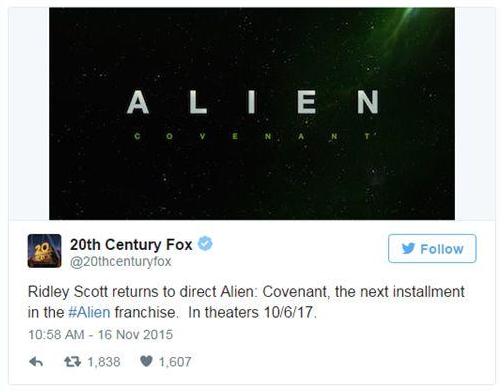 In addition to the name and promo art, Fox also released the following synopsis:
Ridley Scott returns to the universe he created in Alien with Alien: Covenant, the second chapter in a prequel trilogy that began with Prometheus — and connects directly to Scott's 1979 seminal work of science fiction. Bound for a remote planet on the far side of the galaxy, the crew of the colony ship Covenant discovers what they think is an uncharted paradise, but is actually a dark, dangerous world — whose sole inhabitant is the "synthetic" David (Michael Fassbender), survivor of the doomed Prometheus expedition.
"Doomed" is precisely what I was thinking…
Alright Tyr, Aonghus, NickOz, NOLAbert and TPark, please discuss while I send an intern out for more tequila. And everyone else is also welcome to post a comment or drop a line to sue@blackgate.com.