Discovering Robert E. Howard: Howard Andrew Jones and Bill Ward Re-Read "Rogues in the House"
Discovering Robert E. Howard: Howard Andrew Jones and Bill Ward Re-Read "Rogues in the House"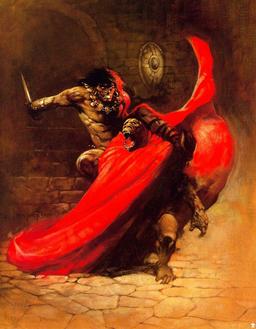 Howard Andrew Jones and Bill Ward have been reading their way through the Robert E. Howard collection The Coming of Conan, the first of the three Del Rey volumes, perhaps the definitive collection of Conan tales. They recently discussed "Rogues in the House," first published in the January 1934 issue of Weird Tales.
Here's Howard:
On re-reading it I was surprised that I haven't visited this one more often. It gallops along. A lot happens in a short time because it's told with such economy. And it's very different from what has come before. I've been reading a lot of Conan pastiche in my downtime via The Savage Sword of Conan reprints recently, and so many of those writers model a Conan story off of the formula we saw in the last stories — monster, half-naked damsel, evil wizard/trap, escape. "Rogues in the House" breaks the formula and for this reason is even more of a pleasure.

Stepping back you can see how it's a strange beast inspired from multiple sources — weird death traps out of Fu Manchu stories, a system of mirrors set to emulate a modern mastermind's hidden cameras, and an ape servant who's rebelled against his master. If someone had come and babbled the various story elements to me I would have rolled my eyes. Yet it works very well, in part because once it starts rolling it just never lets up.

You could say that about stories that catch you up and then realize upon re-examination that some of the elements didn't make sense. That, however, can't be said about "Rogues." In retrospect it's one fine scene after another, although my favorite moment may well be the conclusion.
Read the complete exchange here.
Their previous Conan re-reads include:
"The Hyborian Age"
"The Phoenix on the Sword"
"The Tower of the Elephant"
"Queen of the Black Coast"
"Black Colossus"
"Rogues in the House"
"The Devil in Iron"
"The People of the Black Circle"
The Hour of the Dragon
See all of our Conan coverage here.