Howard Andrew Jones and Bill Ward Re-Read The Coming of Conan
Howard Andrew Jones and Bill Ward Re-Read The Coming of Conan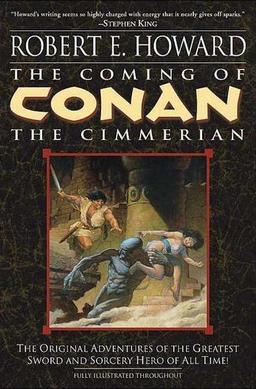 Bill Ward and Howard Andrew Jones have wrapped up their detailed and highly entertaining look at Fritz Leiber's famous Lankhmar stories over at Howard Andrew Jones' website. But without pausing for breath, they've leaped into a re-read of Robert E. Howard's classic tales of Conan, starting with the Del Rey edition of The Coming of Conan the Cimmerian, and Howard's essay on the world Conan adventured in, "The Hyborian Age." Here's Bill:
"The Hyborian Age" isn't the place to start if you are new to Conan, in fact I'd say it's really only interesting if you are already familiar with Conan's world, as well as the enthusiasms of Conan's creator. REH himself didn't start with "The Hyborian Age," either, he started with the character of Conan, only settling down to iron out his "world bible" once he had three Conan stories under his belt and realized he wanted to write many more… It's the history of a lost age before the rise of the civilizations we are familiar with, but it's also a way of getting around history. REH wrote fast and he wrote for publication and, though he loved history and writing historical fiction, he felt it took too much time to get the research just right. Enter the secondary world of his own slice of pre-history, a way of not only having a world he didn't have to exhaustively research, but also a vehicle for bringing together the character and flavor of many different cultures and eras that would allow Conan to adventure in the equivalent of everything from the Ancient Near East to Medieval France. That may not be completely clear just from reading "The Hyborian Age," but it is clear from the stories themselves, as well as by glancing at the two maps REH used when planning his world — his Hyborian Kingdoms superimposed over a map of Europe, North Africa, and the Near East is probably even more eloquent than his essay…
Join the discussion here.
Their other Conan re-reads include:
"The Hyborian Age"
"The Phoenix on the Sword"
"The Tower of the Elephant"
"Queen of the Black Coast"
"Black Colossus"
"Rogues in the House"
"The Devil in Iron"
"The People of the Black Circle"
The Hour of the Dragon
See all of our Conan coverage here.