Discovering Robert E. Howard: Howard Andrew Jones and Bill Ward Re-Read "Black Colossus"
Discovering Robert E. Howard: Howard Andrew Jones and Bill Ward Re-Read "Black Colossus"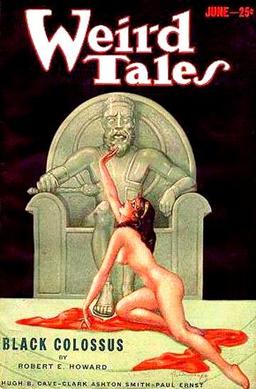 Late last week, while Howard Andrew Jones and I were discussing how hard it is to write great fight scenes, Howard gave me a piece of advice. "Read "Black Colossus,"" he said. "That will show you how it should be done." So I pulled out my copy of the Del Rey's The Coming of Conan, and started in… but not before reading the story that chronologically precedes it, "Queen of the Black Coast," featuring the lovely and fatal pirate queen Bêlit. This Robert E. Howard fellow… his stories are a graduate school class in action writing, and no mistake. Not coincidentally, Howard and Bill Ward continued their fascinating Conan re-read with "Black Colossus" last month, originally published in the June 1933 issue of Weird Tales. Here's Bill:
It's wonderful stuff, as is the resultant exchange between Conan and his former mercenary commander, Amalric, who remarks that Thespides' hot-headed charge is the sort of thing that Conan used to get up to. Conan agrees, but says that was when he was only worried about his own hide, now he's responsible for others. Here Conan's essential decency and honor feeds right into his maturation — this battle is his first command, and it's really a freak of fortune that Conan is even in this position. But he's smart, and he respects his fellow soldiers, having emerged just days before from their ranks himself, and all of that factors into him growing into a position of responsibility. Earlier, there is also reference to how kingly he looks all decked out in his new armor, something Conan would retain in the back of his mind for years.
Their other Conan re-reads include:
"The Hyborian Age"
"The Phoenix on the Sword"
"The Tower of the Elephant"
"Queen of the Black Coast"
"Black Colossus"
"Rogues in the House"
"The Devil in Iron"
"The People of the Black Circle"
The Hour of the Dragon
Read the complete exchange here.
See all of our Conan coverage here.