S.T. Joshi Is Mad as Hell
S.T. Joshi Is Mad as Hell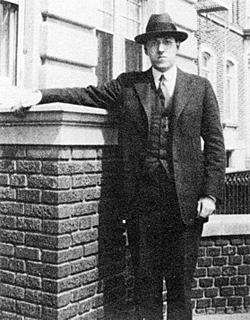 Lovecraft biographer and anthologist S.T. Joshi has lost his cool air over the World Fantasy Convention's decision to remodel their awards:
HP Lovecraft's biographer ST Joshi has returned his two World Fantasy awards following the organisers' decision to stop using a bust of the author for the annual trophy – a move the Lovecraft expert called "a craven yielding to the worst sort of political correctness".

The change was announced on Sunday. It follows a year-long campaign led by the author Daniel José Older, who launched a petition calling for the awards to end their trophy's association with "avowed racist" Lovecraft.
You don't have Joshi to kick around any more, because, gentlemen, this is his last WFC. Writing to WFC co-chairman David G. Hartwell, Joshi said:
Please make sure that I am not nominated for any future World Fantasy Award. I will not accept the award if it is bestowed upon me.

I will never attend another World Fantasy Convention as long as I live. And I will do everything in my power to urge a boycott of the World Fantasy Convention among my many friends and colleagues.
Debate over Lovecraft's racism — and let's face it, he was a racist, and even if it blunted in his later years, he was never going to join the ACLU — generally falls into two camps: that he and his views were products of his times; or that his beliefs were particularly venomous even for the era. As usual with truth, I think it's somewhere in the middle. Lovecraft was a naive shut-in, his head a Gordian knot of neuroses. No one will argue that Lovecraft was a well-adjusted individual; from sex to seafood, a psychiatrist would have worn out an IKEA's worth of sofas itemizing a complete list of the man's phobias. I contend those same anxieties are precisely what make Lovecraft's writing so much fun. If his racism was more vile than that of his neighbors and contemporaries, then it originated in that same pool of existential paranoia from which only madmen sip. It was part and parcel with his oversensitivity to smells, his finicky eating habits, and all the rest. H.P. Lovecraft may have been a genius. He was also crazy.
Having said that, I often worry that scolding Lovecraft too harshly is to rub Vaseline on the lens through which we view early 20th-century America. For this country, those first three decades were a period of peak racism in a Himalayan history. The 1896 Plessy v. Ferguson decision, by which SCOTUS granted the South carte blanche to do their worst, was the tamping of the soil upon Reconstruction's grave; and 1915 saw the rebirth of the Klan, though this time with a more anti-Catholic, anti-immigrant bent, attracting millions of members in the 1920s. The nativism of the 19th century — which shows no signs of abating in 2015 — came to full bloom, with passage of the 18th Amendment and the Volstead Act (which was intended in large part to circumscribe Irish, Italian, and other immigrants) being its greatest successes. Somebody at this year's NecronomiCon described Lovecraft as the last of the Victorian gentleman scientists, a man who had the leisure time to read journals and magazines about science and new discoveries and contemplate their repercussions. Alas, this was also a high time of pseudoscience, of theories about genetic memory and phrenology and racial traits; they are recurring topics in letters between Lovecraft and Robert E. Howard, both of whom read widely on the subjects and included them in their stories. To say Lovecraft lived in racist times and channeled them through his writing is not to apologize for him so much as it is to confront our not-very-distant past.
Awards are detestable things. They do nothing but delineate in-group/out-group borders, foster cliquism, and shovel coal into the firebox of vanity. They are illustrative of the Buddha's maxim that desire is the root of all suffering: it is only because people want the Hugos and the WFAs to be one thing and not another that so much distress, spite, and frustration result. Joshi's anger is simply an equal and opposite reaction to the same anger behind the removal of HPL from the award statuettes. If nobody cared, everyone would shrug their shoulders and go back to reading and writing and living; but instead, both sides churn and froth because they desire a thing, and specifically they desire it to be what they want and not what it might be to somebody else. This, for me, was the beauty of the Hugo controversy: everybody got exactly what they deserved because the sum of the pain was precisely what they had put into it.
I'm not worried about Lovecraft's legacy. I think every attendee at this year's NecronomiCon was well aware of his full bibliography, including a certain 1912 poem, and had made their separate peace with it. We're living in a golden age of literature, TV, film, and video games, with such abundance that any one of us can only absorb but a small percentage of it; and someone on some blog or in some article I read hoped that future NecronomiCons, while acknowledging Lovecraft's influence, would resist ossifying into nostalgic affairs and instead focus on and celebrate contemporary weird writing and filmmaking and everything else because there's plenty of it out there. I hope so too. Some of us don't care about awards, so there's nothing for us to be mad about.