The Best Of Heroic Fantasy Quarterly, Volume 1
The Best Of Heroic Fantasy Quarterly, Volume 1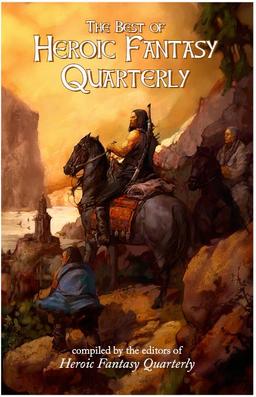 It is hard to believe that David Farney and I started Heroic Fantasy Quarterly in the waning half of 2009. Six years ago; and internet years are like dog years so that's, well, that's a long time.
It's also hard to believe that we've been talking about this best-of idea since 2013! We finally did it, though, and made hard choices from our first eight issues to bring out the best work, summoned the incredible skills of artist Justin Sweet, and even brought Black Gate's own John O'Neill in on it.
And now it is a real thing, available for pre-order and going live/shipping on Black Friday.
Our table of contents:
Introduction: "Over the Hills and Far Away…and Hiding Right Next to You" by John O'Neill
"Man of Moldavia," by Richard Marsden
"Leo Passimus Remembers His First Voyage," by Danny Adams
"The Black Flowers of Sevan," by James Lecky
"Monster in the Mountains," by William Gerke
"The Lay of Cuthred King," by Joshua Hampton
"Shadows From Firelight," by R. Michael Burns
"The Footman," by W. E. Couvillier
"Hero of Old," by John Keller
"A Bit of Backstory," by the editors
"No Two Stones," by Christopher Wood
"What Sieglinde Serpentslayer Said to the King," by Megan Arkenberg
"The Sea Wasp," by Robert Rhodes
"Lord of the Brass Host," by Dariel Quiogue
"The Last Free Bear," by J.S. Bangs
"Lament for the Fathers," by Joshua Hampton
"Shattering the Spear," by P. Djeli Clark
"The Baroness Drefelin," by David Pilling
"Gilgamesh (What the Sumerians Seem to Have Missed)," by David Sklar
There should be more anthologies to come, and of course HFQ itself isn't going anywhere!