Spring 2014 Subterranean Magazine now Available
Spring 2014 Subterranean Magazine now Available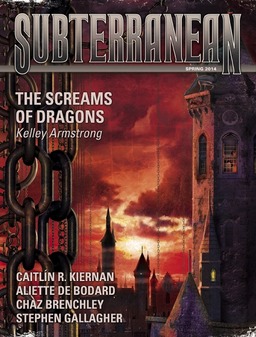 No other magazine makes me wish I was still editing the way Subterranean does. I think it's the way they showcase a combination of top names mixed with exciting newcomers, an attractive website, and great covers. I don't miss the non-stop busywork that comes with editing, publishing, and distributing a fantasy magazine… but boy, I do miss shopping for cover art.
The Spring 2014 issue of Subterranean is packed with great names:
"The Screams of Dragons" by Kelley Armstrong
"Bus Fare" by Caitlín R. Kiernan
"The Traveller and the Book" by Ian R MacLeod
"Hath No Fury" by Kat Howard
"One Dove" by Stephen Gallagher
"The Burial Of Sir John Mawe At Cassini" by Chaz Brenchley
"The Days of the War, as Red as Blood, as Dark as Bile" by Aliette de Bodard
I'm pleased to see something new from Stephen Gallagher, who wrote several Doctor Who novels (under the name John Lydecker) in the early 80s. His later books include The Kingdom of Bones (2007) and The Bedlam Detective (2012), and the 2004 collection Out of His Mind, winner of the British Fantasy Award. Rich Horton reviewed Ian R MacLeod's Song of Time for us back in 2011, and Emily Mah reported on Caitlin R. Kiernan being a co-recipient of the 2012 Tiptree Award last March. And we told you about Aliette de Bodard's fabulous Obsidian & Blood omnibus in 2012.
Subterranean is edited by William Schafer and published quarterly. The Spring 2014 issue is completely free and available here; see their complete back issue catalog here. We last covered Subterranean magazine with their previous issue, Winter 2014.