Convention Review: Conpulsion 2014
Convention Review: Conpulsion 2014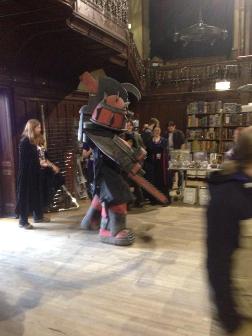 The potential GM, a curly-haired Scot of about my age, shakes his head. "I don't know… ten year olds? I've had bad experiences GMing kids who don't get it."
"They're genre-savvy," I said. "DeeM here runs D&D 4th edition and they're both experienced players. D&D. Fate…"
Kurtzhau senses my drift and chips in, "And I play Tom Clance—"
"Inappropriate computer games," I interrupt. "They'll be fine, honest… and it's OK to swear in front of them."
So the GM heroically agrees and the boys book in to play a superhero game involving mad scientists.
We're at Conpulsion, Edinburgh's yearly gaming convention.
It's Sunday afternoon and I'm supposed to have swapped my Writer Hat for my Geek Dad Hat. However, I've just been invited onto a panel, "Writing for Publication." Now, instead of wandering home for a leisurely afternoon of painting figures, I'm setting  Kurtzhau and his friend up with a game so that I can do my first panel (gulp).
While we're waiting for things to start, another DM hears we might be stuck and offers to run something on the fly – it's how he started years before. Another gamer lends the boys the great handfuls of dice required to play Worlds of Wordplay.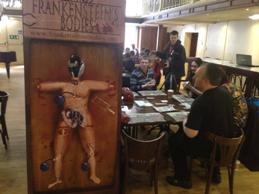 And that's the thing. Conpulsion has a clannish multi-generational feel. At 10, Kurtzhau and DeeM are probably the youngest kids to actually roleplay, but there are other children and parents enjoying the board games. These include an early showing of Frankenstein's Bodies, still at the kickstarter stage. A little girl, apparently, had great fun stealing her daddy's leg…
So the middle-aged gamers like me have brought in the next generation. Meanwhile, much like an SF con, the younger and older cohorts mingle happily, making a sort of salt and pepper tapestry of Goth-black and distinguished grey manes.
It may be clannish, but it's not cliquey. I'm a stranger to most, but they treat me like an old friend and somehow I find myself preparing for my panel by playing boogie woogie on a battered grand piano.
It's also quite a high-powered convention.
A few years ago (when I had my swordsman hat on, so was in a rush), I was introduced to Mark Miller of Traveller fame. This year, there's writer-turned-games-developer Andrew Harman, game writer/editor Cat Tobin of Pelgrane Press, Sarah Newton aka "Madam Mindjammer" (of which more later), and the Gemmel-Short-Listed Adrian Tchaikovsky. There were also a lot of semi-professional creatives flying below the radar. For example, two video games writers attended my workshop and one of the Nearly Enough Dice podcasters was flitting about taking photos.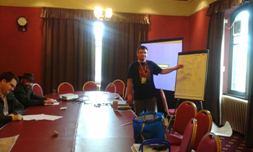 Adrian's presence gave me a start. Partly it was the monkeys worshipping his stack of books, but mostly it was because I was there on Saturday to take a workshop in rapid story development based on my forthcoming book.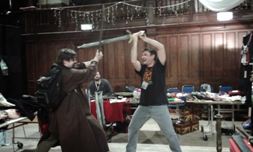 Adrian writes something like half a million words a year and holds down a job as a lawyer so it was like agreeing to teach electric guitar and finding Jimi Hendrix in the same building!
However, Adrian turned up for our sword demo and we had a blast comparing notes on Medieval German Longsword, which more or less set me at my ease.
All this said, Conpulsion isn't really about the guests, panels, and workshops. Nor is it about the friendly stalls loaded with fantastic LARP weaponry. Rather it's about the gaming, especially roleplaying.
Sessions are squirreled away throughout the rambling Gothic structure of Teviot house. Some use home-brewed rules, including one apparently involving mice with close-quarters-weapons; some use rules almost fresh off the press.
I think a good playability test for games that engross adults is: can kids handle the rules?
I can report that the boys had great fun with Worlds of Wordplay, but that their peak experience was playing the modernised Maelstrom Domesday with Graham Bottley, who is basically responsible for creating the 2nd — and playable — edition of Advanced Fighting Fantasy, the RPG spun off from game books such as Warlock of Firetop Mountain.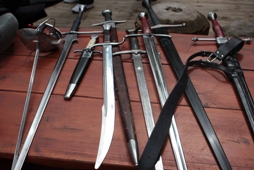 When building campaigns for Maelstrom (review here), Graham actually used the Doomsday book as source material! We bonded over Early Medieval History, then I left the boys to it. DeeM was so impressed by the experience, he blew several months' pocket money on a copy of the game and plans to GM a session with his mates this holiday Monday.
Meanwhile, I was still recovering from demoing swords and teaching, so I planned to sneak off to the bar and chill. However, Sarah Newton was running Mindjammer and I suddenly realised I hadn't played an all-adult RPG for something like 15 years!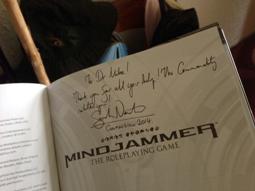 Plus, this was Mindjammer (which later won the Griffie Award)!
Mindjammer is what you'd get if the late Ian Banks had written Traveller using the Fate rules. It's the far, far future and a post-scarcity galactic civilisation polices its barbarian fringe. Meanwhile, a sinister theocratic empire strangely reminiscent of Warhammer 40K lurks beyond the border.
Whereas Fate games like Diaspora and Spirit of the Century assume a genre knowledge and then get on with establishing the rules to support it, Mindjammer supplies a distinct setting. This has pros and cons. On the one hand, Mindjammer feels more modern, more convincingly SF, and more distinct. On the other, to GM it, you actually have to learn the setting (though I suspect that Sarah's novel makes that task easier).
Playing Mindjammer was awesome, not least because the author was our GM. I took "tank ninja" as my high concept, then we romped through a mystery and a tactical situation. However, after some hi-tech butchery, the whole thing hinged on what was basically a group hug! Only Fate could make that interesting…
Perhaps a group hug is a good note on which to finish.
Conpulsion always feels like a place rather than a fleeting confluence of people, a home to anybody who knows that there are more kinds of dice than six-sided ones. I'll certainly be back next year and plan to spend as much time gaming as possible.
(350+ people attended, raised over £1600 for charity. The programme included 6 LARPs and 38 RPGs, with even more happening anyway.)
---
M Harold Page (www.mharoldpage.com) is a Scottish-based writer and swordsman who is enjoying introducing his kids to geeky pursuits. His book on creative outlining comes out next week.