Rich Horton Reviews Song of Time
Rich Horton Reviews Song of Time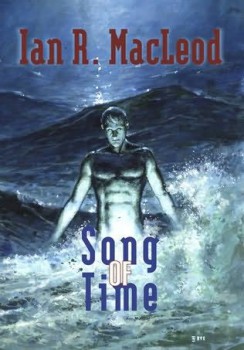 Song of Time
Ian R. MacLeod
PS Publishing (253 pages, $14.95, October 2008)
Reviewed by Rich Horton
Ian R. MacLeod is one of the supreme SF writers of recent years, especially at novelette and novella length, and so it is something of a disappointment that his novels seem to have struggled to find an audience. His newest work is so far only out in the U. K. from the excellent but definitely small outfit PS Publishing. Yet in considering this book I am inclined to understand its failure (so far!) to attract a trade publisher. Song of Time is not a high concept book. Indeed it is difficult to capture it with a single thematic statement. (His two Ace novels, on the other hand, were distinctly about the magical substance aether and the ways in which its use paralleled the Industrial Revolution.) Thus it is, I imagine, a bit harder to "sell" the book. And I must also add that while that is not always a shortcoming, in the present case I think it is rather. About which more later.
Song of Time opens with an aging woman rescuing a drowning man from the ocean off her Cornish house. The man, whom she calls Adam, is a mysterious figure – he has no memory, but he knows – or learns quickly – a great many things, some of which are quite unexpected. He is also a remarkably quick healer, and otherwise unusually constructed. Thus a puzzle is established – but really the book is not about this puzzle (though in the end it is solved, quite satisfactorily).
__________
Instead, ostensibly as both a potential prod to Adam's memories, and as part of a project she is undertaking before dying – or rather before "passing" to a virtual existence – the protagonist, Roushana Maitland, tells her life story to Adam. (And, in a sense, to herself.) And this is the subject of Song of Time – the life story of a woman of the 21st Century, and thus the story of that Century. And both her story and the century's are quite tumultuous. Her mother was born in England to Indian parents, her father is more conventionally "Anglo-Saxon." Her beloved older brother inherits the English looks, and he is also a brilliant musical talent. But somehow his tragic early death unleashes hitherto unrevealed talent in the more Indian-looking Roushana, and she goes on to become a brilliant concert violinist. She marries one of the greatest conductors of the day, and they have a stormy but mostly loving marriage, two kids, and, too, plenty of tragedy.
The historical background is likewise eventful. We are treated to a variety of disasters – nuclear war, a supervolcano, political upheaval. Roushana's husband is a Black American who is heavily involved in French politics when they meet. Roushana's mother becomes a central activist for the Indian poor. Roushana herself is more of a homebody in spirit – but her life gives us glimpses of ravaged India and American, and radically altered England. And her approaching death gives us glimpses of a strange future in which the dead live on in virtual space.
All of this is nicely done, but none of it is spectacular. In a way this is an unfair complaint – the imagined 21st Century is a mix of a number of not entirely new speculations – but isn't this really in its way plausible? Yes it is, but somehow while the future we see is interesting it isn't quite involving, or really terribly thought-provoking. For different reasons Roushana's life, which is really the center of the novel, while it too holds the interest, doesn't end up absorbing. I think in part the problem is one of cliché – her brilliant career just doesn't convince, seems too easy, too old hat. The same with her stormy marriage – the sexy husband (and the great sex) plus the infidelities and the final tragedy are interesting but, alas, just that bit too melodramatic. And finally Adam's story, only hinted at, is also interesting but too much of a side issue, and too lightly sketched in, to fully work.
Despite the caveats, I enjoyed Song of Time. It's never boring, and it's very nicely written. But it is, I think, in the final analysis a minor work.
__________
Rich Horton is an Associate Technical Fellow in Software for a major aerospace company in St. Louis, MO. He writes a regular column and book reviews for Black Gate, as well as a monthly column on short fiction for Locus and reviews for many other publications. He also edits an annual anthology, The Year's Best Science Fiction and Fantasy, for Prime Books. He maintains a website at www.sff.net/people/richard.horton, and can also be found on Live Journal.