Winter 2014 Subterranean Magazine now Available
Winter 2014 Subterranean Magazine now Available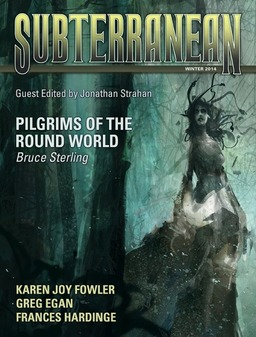 How does Subterranean magazine get such gorgeous covers, issue after issue? Editor Bill Schafer must keep a host of talented artists chained up in the basement. I wish I'd thought of that.
The Winter Issue isn't just a pretty face — it's got personality, too. Have a look at the spectacular table of contents:
"The Scrivener" by Eleanor Arnason
"Bit Players" by Greg Egan
"The Prelate's Commission" by Jeffrey Ford
"Nanny Anne and the Christmas Story" by Karen Joy Fowler
"Hayfever" by Frances Hardinge
"Caligo Lane" by Ellen Klages
"I Met a Man Who Wasn't There" by K J Parker
"Pilgrims of the Round World" by Bruce Sterling
We published Jeffrey Ford's "Exo-Skeleton Town" back in Black Gate 1. It won the 2006 Grand Prix de l'Imaginaire, the French national speculative fiction award, and has been reprinted many times — including in the anthology Alien Contact, where editor Marty Halpern said:
This is probably the quirkiest story in the anthology. And it remains one of the more unique story concepts I've ever read. In fact, even though I'm the editor, I'm almost tempted to ask Jeff: "Where the hell did this idea come from?"…
You can read the complete story here. We published Ellen Klages wonderful fantasy "A Taste of Summer" in Black Gate 3; she has since been nominated for the Hugo, Nebula, Campbell, and World Fantasy Awards for her short fiction.
Subterranean is edited by William Schafer and published quarterly. The Winter 2014 issue is completely free and available here; see their complete back issue catalog here. We last covered Subterranean magazine with their previous issue, Fall 2013.