Black Gate 3 – Winter 2002
Black Gate 3 – Winter 2002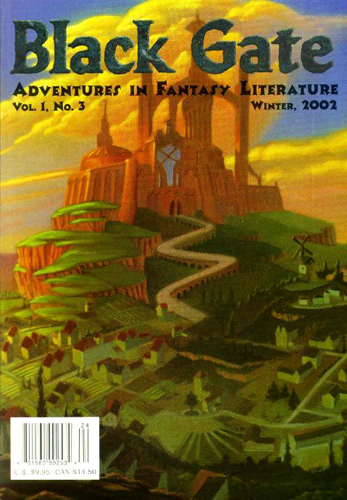 224 pages, $9.95
On Sale January, 2002
Edited by John O'Neill
Published by New Epoch Press
Cover Art by Hung Vinh Mac
Interior Art by Richard Corben, Chris Pepper, Bernie Mireault, Denis Rodier, Brian Hughes, Allen Koszowski, Drew Christopher, and Dave Sheppard
Buy this issue — only $9.95 plus shipping & handling!
---
FICTION
"Iron Joan"
by ElizaBeth Gilligan
She was the daughter of a High Chief, shamed by her father's house… but gifted in her mother's secret arts.
"The Knight of the Lake"
by Elaine Cunningham
He was a boy who could catch will-o-the-wisps with his bare hands. But could Oberon turn him into a knight?
"The Chinese Sandman"
by Mike Resnick
In which detective John Justin Mallory matches wits with a man who can steal dreams.
"Another Man's Burden"
by Harry James Connolly
A chilling new tale of swordplay and magic in the decaying city of Pald, from the author of "The Whoremaster of Pald."
"A Taste of Summer"
by Ellen Klages
It was a small paper cup labeled "Summer Afternoon."
"A Dark Miracle"
Darrell Schweitzer
The black thing that came for him at midnight summoned him in whispers…
"Tav-Ru's Troth"
by Michael R. Gist
He was the last of his kind — and the village's only hope against the night creatures.
"Three Nights in Big Rock City"
by Jon Hansen
It was a hot Tuesday afternoon, the kind that made folks crazy and made Joe money.
"The Haunting of Cold Harbour"
by Todd McAulty
Midnight had become a dangerous time to be in a cemetery since the Lord Mayor had cracked the Book of the Dead. Ghosts didn't bother Sammy, but the things that came to feed on them did.
"For the Love of Katie"
by Gail Sproule
All the young dragons were special… but Braveheart was the first to be hatched from an egg, and the first to win the heart of a human.
Fantasy Classic: "Ringard and Dendra"
by Brian McNaughton
A modern classic of passion and dark sorcery, illustrated by artist Richard Corben.
---
ARTICLES
Reading Up on Short Fiction: A Survey of Fantasy Magazines
by David Soyka
Editorial
by John O'Neill
---
REVIEW FEATURES
Fantastic Fiction: Books for Younger Readers
by Victoria Strauss
The Comics Cauldron
by Claude Lalumière
Book Reviews
by Lisa DuMond, Jeffrey Ford, Rich Horton, Greg L. Johnson, Charlene L. Brusso, and Sue Granquist.
---
GAMING
Fantasy Game Reviews
by Don Bassingthwaite, Jennifer Brozek, Johanna Meade, and Michael Thibault