Fall 2013 Subterranean Magazine now Available
Fall 2013 Subterranean Magazine now Available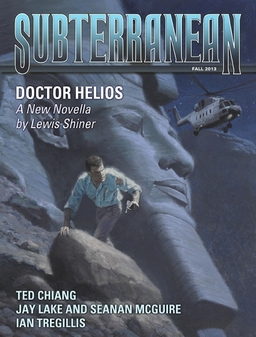 The tireless Bill Schafer has released another issue of the excellent Subterranean Magazine, right on time, continuing to make those of us who struggled with publishing deadlines look bad. Jerk.
The Fall Issue is packed with big names, too. Just check out this table of contents:
"Doctor Helios," by Lewis Shiner
"The Truth of Fact, the Truth of Feeling," by Ted Chiang
"Hook Agonistes," by Jay Lake and Seanan McGuire
"What Doctor Ivanovich Saw," by Ian Tregillis
Lewis Shiner is the author of Deserted Cities of the Heart, Frontera, Slam, and many other novels. "Doctor Helios" is a whopping 30,000 words, practically a novel in itself.
The brilliant Ted Chiang has won four Nebula awards and four Hugo awards for his short fiction — pretty good considering he's written only 14 stories in the past 23 years. A new Chiang story is a major event, and it's not often you're offered one for free.
Jay Lake has been published twice in Black Gate magazine ("Fat Jack and the Spider Clown," in BG 8 and "Devil on the Wind," in collaboration with Michael Jasper, in BG 14); his collaborator here, Seanan McGuire, has never been published in Black Gate, but we don't hold that against her. She has written 10 novels in the October Daye series, and (as Mira Grant) the Newsflesh trilogy and the upcoming Parasite.
I saw Ian Tregillis give a reading at the World Science Fiction Convention last year — and that man knows how to pack a room. His most recent novels are Bitter Seeds, The Coldest War, and Necessary Evil, the final book in the The Milkweed Triptych.
Subterranean is edited by William Schafer and published quarterly. The Fall 2013 issue is completely free and available here; see their complete back issue catalog here. We last covered Subterranean magazine with their previous issue, Summer 2013.