Read Jeffrey Ford's complete "Exo-Skeleton Town" from Black Gate 1
Read Jeffrey Ford's complete "Exo-Skeleton Town" from Black Gate 1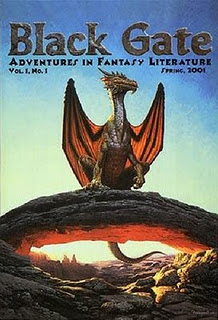 Jeffrey Ford's short story "Exo-Skeleton Town" grabbed a lot of critical attention when it appeared in our first issue in Spring, 2001. Antony Mann, in issue 2 of The Fix: The Review of Short Fiction said:
'Exo-Skeleton Town' by Jeffrey Ford… is crazy stuff, man, witty and entertaining.
And Mark R. Kelly, in the September 2001 issues of Locus, said:
Jeffrey Ford's "Exo-Skeleton Town" is a ribald, scatological tale set on a dark planet populated by alien bugs whose medium of exchange is their own excrement in the form of dung balls. Humans have arrived in force, having learned 1) of the bugs passionate interest in old back & white movies; and 2) of the dung balls' fantastic aphrodisiac powers. But wait, there's more… lots of wacky fun. There are some thematic ironies that knit together the story's various parts… it's definitely alive.

Recommended Story of the Month: Jeffrey Ford, "Exo-Skeleton Town."
Now editor Marty Halpern has selected the story for his upcoming anthology Alien Contact, saying:
If you're not already a fan of the old, classic Hollywood movies — and the actors and actresses that made these films such classics — then you certainly will be after you've read "Exo-Skeleton Town." This is probably the quirkiest story in the anthology. And it remains one of the more unique story concepts I've ever read. In fact, even though I'm the editor, I'm almost tempted to ask Jeff: "Where the hell did this idea come from?"…

So, for your reading pleasure, here is "Exo-Skeleton Town," which won the 2006 Grand Prix de l'Imaginaire, the French national speculative fiction award.
You can enjoy the complete story, one of the most unusual and imaginative pieces we've ever published, at Marty's blog, More Red Ink. And you can see the complete Table of Contents for Black Gate 1 — still available in our store for just $18.95 — here.