The Public Life of Sherlock Holmes: Holmes on Screen
The Public Life of Sherlock Holmes: Holmes on Screen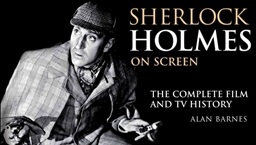 Holmes enthusiasts have their peculiarities. One of mine is that I enjoy just grabbing Alan Barnes' Sherlock Holmes on Screen from the shelf and randomly reading about some past tv or film effort starring the great detective.
Almost twenty years ago, I couldn't find a single picture of Ronald Howard's Holmes on the internet. So I scanned one from a book and that was the basis for HolmesOnScreen.com, which for about a decade, had more info about Holmes television and film projects than any other site on the web. With the coming of Guy Ritchie's Holmes, I decided to shut down the site (surprisingly, I enjoyed the movie) and soon thereafter set up SolarPons.com.
But Holmes on screen has remained a major interest area for me. By my count, twenty-one The Public Life of Sherlock Holmes posts have covered that subject! Now, I'm not saying that if you read every one of the links below, you'd be a leading expert on Holmes on screen. But you'd probably know more than most folks you talk to on the subject. And hey; they're all free!
1900-1920 Holmes' Before Eille Norwood
1914 James Bragington – A Study in Scarlet
1916 William Gillette – Sherlock Holmes
1921-1923 Eille Norwood – Stoll Pictures
1922 John Barrymore – Sherlock Holmes
1931 Raymond Massey – The Speckled Band
1931-1937 Arthur Wontner – Five Films
1933 Reginald Owens – A Study in Scarlet
1954 -1955 Ronald Howard – The Adventures of Sherlock Holmes
1959 Peter Cushing – Hammer's Hound of the Baskervilles
1979 Christopher Plummer – Murder By Decree
1982 Tom Baker – The Hound of the Baskervilles
1983 Ian Richardson – The Hound of the Baskervilles & The Sign of Four
1983 Peter O'Toole – The Animated Novels
1984-1985 Jeremy Brett – The Adventures of Sherlock Holmes (Parts One, Two and Three)
1991-1992 Christopher Lee – The Golden Years
2010-2017 Benedict Cumberbatch – BBC Sherlock   (Post One, Post Two, Post Three, and Post Four)
Assuming Black Gate keeps this PLoSh column around for another year or two, there are going to be more like this. I plan on a few more posts for versions of The Hound of the Baskervilles, Matt Frewer's four Holmes tv movies (The Royal Scandal is quite good), a post comparing versions of The Sign of the Four (the best-adapted of the novels) and of course, some Basil Rathbone
I'll pick up with the Jeremy Brett series, maybe do something on Vasilij Livanov's Russian series, John Longden's failed pilot, A Study in Terror, A Study in Pink (I want to write something positive about BBC Sherlock), talk about Roger Moore and John Cleese (twice), the brilliant Without a Clue and a few more.
But by the time we're done, you'll be able to come to Black Gate for a pretty decent overview of more than a century of Sherlock Holmes in film and on television.
It's Elementary – In 2012, The Guinness Book of World Records declared Holmes the most filmed literary human character of all time, with 254 occurrences. That was second for all characters, behind Dracula's 272. I have no idea how they counted it and if Elementary has pushed Holmes up to the top.
---
You can read Bob Byrne's 'The Public Life of Sherlock Holmes' column here at Black Gate every Monday morning.
He founded www.SolarPons.com, the only website dedicated to the 'Sherlock Holmes of Praed Street' and blogs about Holmes and other mystery matters at Almost Holmes.
His "The Adventure of the Parson's Son" is included in the largest collection of new Sherlock Holmes stories ever published.