The Public Life of Sherlock Holmes: The Mystery Holmes
The Public Life of Sherlock Holmes: The Mystery Holmes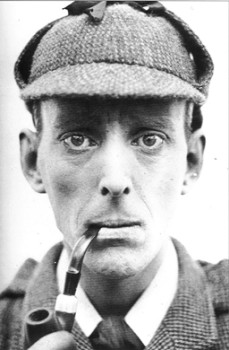 I mentioned in my post on silent film Sherlock Eille Norwood that all of his films are preserved on safety stock at the British Film Institute (BFI). I'm sure that some of my British Holmesian friends have viewed a few of these. I have a couple of terrible quality episodes on VHS.
Unfortunately, there are no known surviving copies of several Holmes films and television episodes. This includes Arthur Wontner's The Missing Rembrandt from 1932 and episodes of the sixties BBC tv series starring both Douglas Wilmer and Peter Cushing.
Number nine on the BFI's '75 Most Wanted List' of missing films is A Study in Scarlet, from 1914.
Last week, the BFI started an international hunt for this missing piece of Sherlock history with an essay titled, "Who Can Solve the Mystery of the Missing Sherlock Holmes Film?"
Peter Haining's The Sherlock Holmes Scrapbook reprints a story from the June 12, 1965 Evening Mail with the title, "The Case of the Unknown Sherlock." It was accompanied by this picture.
In 1914, George Pearson was filming A Study in Scarlet for the Samuelson Film Company in England. As he said: "I particularly wanted someone who fitted the image of Sherlock Holmes – tall, thin, narrow-faced and so on, and I couldn't find anyone that looked the part."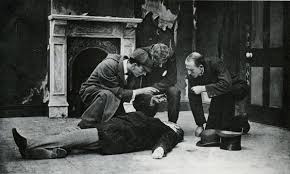 "And then I remembered this man in Samuelson's Birmingham office. He wasn't an actor, but I was able to direct him all the time you see, because it was a silent film, and it worked very well."
The article mentions that Holmes film expert Michael Pointer had spent years trying to identify the man but had given up. However, by the time Pointer published The Sherlock Holmes File in 1976, he had identified him as James Bragington. And he was, as Pearson had said, an accountant at Samuelson's Birmingham office, employed for one silent film and then sent back to his ledgers.
Though the film is missing one hundred years later, here's one review of it from the November 14, Kinematograph Monthly Film Record:
It is a truism to say that Sherlock Holmes is always welcome on the screen. The few film adaptations to be seen of Conan Doyle's great series are, we believe, immensely popular with all classes of people, and there are certainly a great number yet of those famous detective adventures which might be turned into pictures with advantage.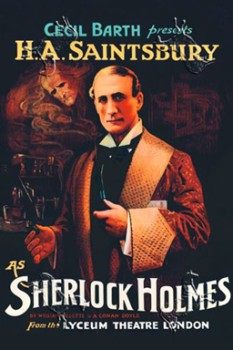 Personally we do not think that either the "legitimate" drama or the picture drama can recapture for us the first fine careless rapture we felt when we came upon these stories in their original version. But we are firmly of opinion that in visualising what is, at its finest, a purely literary pleasure, viz., a high-class detective yarn, the screen has hitherto proved itself a superior medium to the stage.
"A Study in Scarlet," the latest production of the Samuelson Film Co. which was shown to the Trade by the Davison Film Sales Agency, though not quite one of the best of Holmes' exploits, is decidedly one of the best of his creator's novels, and the producers have, without question, made the best of it.
It is in six reels and runs for about an hour and a half, but hardly at any point could we wholeheartedly advise compression, because, even where not materially aiding the story, every scene is interesting for itself and holds the attention enthralled.
We fancy this drama will, in the long run, attract the public, not for anything that Sherlock Holmes himself does (as a matter of fact he only appears in the last two reels) but for its striking pictures of life among the Mormons. The religious ritual and social tyranny of these people are presented in a series of original and memorable scenes.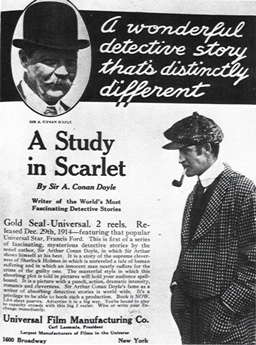 Sir Arthur himself made much of this part of the book, and it is only the barest justice to say that his adaptors have succeeded admirably, not merely in the "property" and photographic elements, but also in suggesting the close, stuffy atmosphere of the Mormons' creed combined with its flagrant freedom in another sense.
The film (which focused far more on the Utah scenes and Mormon story line than on London and Holmes) did well enough that Samuelson made The Valley of Fear in 1916.
However, this time he used H. A. Saintsbury, who played Holmes on stage over 1,400 times in William Gillette's play and Doyle's own The Speckled Band (which I've already posted about, but you know that, discerning reader!)
Charlie Chaplin, who played Billy the page opposite both Gillette and Saintsbury, said that Saintsbury was considered the best Holmes, even better than Gillette himself.
It's Elementary – That same year, there was an American production of Study, produced by Francis Ford. Ford played Holmes with his younger brother John in the role of Dr. Watson. John Ford went on to fame as one of Hollywood's greatest directors of Westerns, working often with John Wayne.
That film from Universal (the studio which would make a lasting Holmes mark with the Basil Rathbone series) is also lost to us today.
---
Bob Byrne founded www.SolarPons.com, the only website dedicated to the 'Sherlock Holmes of Praed Street' and blogs about Holmes and other mystery matters at Almost Holmes. 
For over a decade, he ran HolmesOnScreen.com, the Net's leading resource for Holmes in film and on television.