The Public Life of Sherlock Holmes: Wrapping up Jeremy Brett's Adventures
The Public Life of Sherlock Holmes: Wrapping up Jeremy Brett's Adventures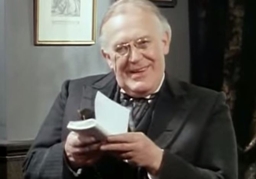 Click here for parts one and two of this look at Jeremy Brett's The Adventures of Sherlock Holmes.
The second installment of Granada's The Adventures of Sherlock Holmes kicked off on August 25, 1985 with The Copper Beeches. Tapped for the role of one of the Canon's most dastardly villains, Jephro Rucastle, was veteran actor Joss Ackland. Back in 1965 he had starred opposite Douglas Wilmer's Holmes in The Disappearance of Lady Frances Carfax, playing her former suitor, Philip Green.
Other tangential Holmes-related efforts had included John Cleese's disastrous parody, The Strange Case of the End of Civilization as We Know It and an episode of the BBC series, The Rivals of Sherlock Holmes, based on the anthologies edited by Hugh Greene.
And in 1989 he would play the King of Sweden in Christopher Lee's Sherlock Holmes & The Incident at Victoria Falls. Ackland's Rucastle is one of the most memorable evildoers in the entire Granada series; menacing in a creepy but understated way.
Speaking of villains, my favorite Granada casting took place in the next story, The Adventure of the Greek Interpreter. George Costigan played mastermind Wilson Kemp with strong overtones of Peter Lorre in The Maltese Falcon. Words like "oily" and "smarmy" roll of the tongue when trying to describe his oily portrayal.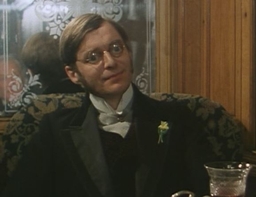 The adaptation included significant differences from the original tale, which featured little actual detective work by Holmes and a vague, off-screen ending. Sherlock and Mycroft are more active in this case, chasing down the Kemp and Harold Latimer as they attempted to escape on a train.
Sophy Kratides is also transformed from a victim to a co-conspirator. I find that the story is more satisfying on screen this way than the original version would have been.
Charles Gray makes his first appearance as Mycroft. Gray, who died in 2000, had a supporting role in the James Bond film, You Only Live Twice, but is best known as Ernst Blofeld in Diamonds are Forever.
Of course, he had previously played Mycroft in The Seven Percent Solution. Portly, snappish, capable of rattling off observations as easily as Sherlock (the fine scene in which Sherlock and Mycroft trade observations made through a large window onto the street, before a bemused Watson, is a shining example of the series faithfulness to Doyle's writing), Gray played a solid Mycroft, appearing in four episodes.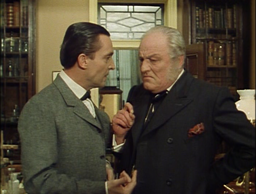 Gray also had a turn in The Rivals of Sherlock Holmes, playing French detective Monsieur Valmont. Many actors with Holmes ties over the years had starring roles in this series, including Doulas Wilmer, Robert Stephens and John Neville.
The Norwood Builder introduced Colin Jeavons as Inspector Lestrade. A long-timer on the British television scene, he would make five more appearances as the usually out-of-his-element detective. Jeavons was less of a fool than Dennis Hoey, who played Lestrade in the Basil Rathbone films.
Jeremy Brett plays a completely "at a loss' Holmes, looking like a hermit at Baker Street as he cannot find the clue needed to prove Lestrade wrong and save "the unhappy" John McFarlane. And Cox found an authentic period fire engine and re-enactment brigade for the big fire scene at Norwood.
Once again, Granada's attempt to faithfully recreate the Victorian era shines through. As in the previous story, dramatic license was taken. Jonas Oldacre murders a tramp and it is the unfortunate man's body that is found after the fire. In Doyle's tale, there is no tramp and Holmes speculates that a dog or rabbit was used in the plan. By having Oldacre kill a man, he is portrayed as being more evil and there is no doubt he will be prosecuted for his crimes.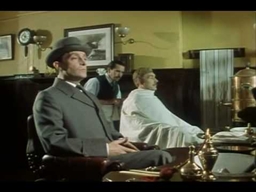 Next up was The Resident Patient, featuring Patrick Newell as the title character, Blessington. Newell had previously played Inspector Lestrade in the rarely seen television series Sherlock Holmes & Doctor Watson, starring Geoffrey Whitehead. To this day, he is best remembered as 'Mother' from The Avengers (no, not THAT one: the one with Diana Rigg).
His next work after Resident Patient was a minor part in Stephen Spielberg's Young Sherlock Holmes.  Nicholas Clay, playing young Percy Trevelyan, had been Jack Stapleton in Ian Richardson's The Hound of the Baskervilles.
It's Elementary – There were plans to have more scenes at the barbershop, which got Holmes out of the Baker Street sitting room for conversations. That didn't happen. But this was a fun scene in which Watson applied Holmes' methods to less than stellar effect.
Jeremy Brett does a wonderful job recreating the scene in which Holmes silently searches the scene of Blessington's suicide, gathering the clues that will be used to reconstruct events. It certainly isn't easy to have two minutes of silence on screen, but Brett arrests the viewers' interest.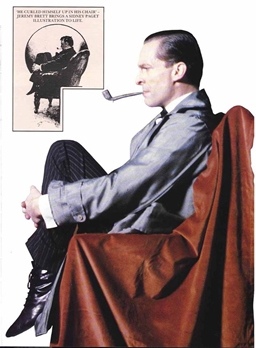 I also enjoy Holmes and Watson rushing out of their sitting room, leaving a disaster scene for Mrs. Hudson to clean up as they pass her on the landing.
The Red Headed League is surely one of the most popular stories in the Canon. Roger Hammond portrays a hapless and penurious Jabez Wilson and the "legion" of redheaded men applying to the League's office are really only fifty men adroitly deployed to look like a whole lot more.
Granada recreates the famous scene of Holmes attending a Sarasate concert at St. James Hall and a little comic relief is thrown in when Wilson's pawnshop is wrecked as the police attempt to capture Henry Clay's accomplice.
Cox and company mistook Inspector Peter Jones from this story with Athelney Jones from The Sign of Four. This error shows up in the credits.
Moriarty is introduced into this story as the mastermind behind the crime. This was done because the next episode, The Final Problem, was to be the last episode of the initial series and having Moriarty appear 'as if from nowhere' would be jarring to viewers. So we see Eric Porter, thin and with that reptilian, oscillation motion, preparing to do battle with Holmes.
Porter would play the professor in the three-story 'Moriarty Cycle': The Red Headed League, The Final Problem and The Empty House. A former member of The Royal Shakespeare Company, he would only make two more screen appearances, succumbing to colon cancer in 1995. It was an excellent casting choice. Many say he was the finest screen Moriarty. I think I give him my vote.
The fight scene at the Reichenbach Falls had never been filmed before and Granada spent a considerable amount of the budget on it, traveling to the actual Falls in Switzerland.
Peter Haining's The Television Sherlock Holmes has an excellent, illustrated article on the stunt, which The Daily Mirror referred to as "one of the most frightening television sequences ever made." The two stuntmen fell towards the water for about twenty-five seconds, descending approximately 375 feet, then were jerked to a stop.
It's Elementary – If you watch Granada's The Final Problem and The Empty House back-to-back, I think you've got a darn good two-hour Holmes movie.
So ended The Adventures of Sherlock Holmes after thirteen episodes. A critical success, it had earned good but not great ratings. The hopeful Cox had planned for the filming of a second series, shooting some scenes for The Empty House while on location in Switzerland.
Sadly, while it would continue on, the series would never quite be the same. Michael Cox brought in June Wyndham Davies to produce as he became Executive Producer and turned some of his attention to other Granada projects. Later, he would actually be ousted from Granada and become hired help to produce future episodes!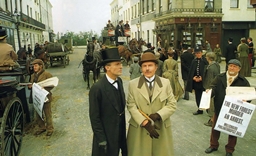 David Burke, for reasons to be explained in more detail in another post, quit as Dr. Watson and a replacement was needed. Granada was already looking to pinch pennies, which would have significant repercussions later.
And tragically, Jeremy Brett's wife, Joan Wilson, died of cancer in the summer of 1985. With Brett's manic depression not yet diagnosed or treated, the support she provided him would be sorely missed as the demands of his Sherlock Holmes portrayal, coupled with his health issues, overwhelmed him.
There were some very good (The Sign of Four), good (Silver Blaze) and bad (The Eligible Bachelor) episodes to come over the life of the series. Medication caused Brett to gain a great deal of weight and his latter portrayal bore little resemblance to his earlier look. But The Adventures of Sherlock Holmes gave millions of Holmes fans what they had been waiting for.
As R. Dixon Smith wrote, "The Granada series, and Brett's contributions to it, will remain the most faithful treatment of Conan Doyle material we are likely to see in our lifetime." I agree.
It probably won't be for a week or two, but I'm going to do one more related post, talking about the rest of the series.
And reminder to go check out The Falk Archive for hundreds of photos from the Granada series. Some fantastic stuff you can't see anywhere else.
---
You can read Bob Byrne's 'The Public Life of Sherlock Holmes' column here at Black Gate every Monday morning.
He founded www.SolarPons.com, the only website dedicated to the 'Sherlock Holmes of Praed Street' and blogs about Holmes and other mystery matters at Almost Holmes.
And for about a decade he ran HolmesOnScreen.com, which is why he seems to know a ridiculously useless amount of Holmes on screen miscellanea.