Vintage Treasures: The Arabesk Trilogy by Jon Courtenay Grimwood
Vintage Treasures: The Arabesk Trilogy by Jon Courtenay Grimwood
Jon Courtenay Grimwood's Vampire Assassin Trilogy (The Fallen Blade, The Outcast Blade, and The Exiled Blade) has earned him an enviable rep as a fantasy author. But I first became acquainted with him over a decade ago with The Arabesk Trilogy, a trio of acclaimed novels that had the unusual distinction of being nominated for both the British Science Fiction and British Fantasy Awards.
The Arabesk Trilogy isn't easy to describe. It's sort of an alternate history fantasy cyberpunk hard-boiled detective series, if that makes sense. The point of divergence with our reality is 1915, with Woodrow Wilson brokering a peace accord that prevents World War I from expanding outside the Balkans. All three books are set in Alexandria, in Islamic Ottoman North Africa (called El Iskandriyah in the novels), in the 21st century. The main characters are Raf, a genetically enhanced ex-street criminal now posing as a rich Ottoman aristocrat, and the hallucinatory fox Tiriganiaq, who frequently accompanies him.
Pashazade (2001), the first in the series, was nominated for the British Science Fiction, John W. Campbell, and Arthur C. Clarke awards. Effendi (2002) was also nominated for the BSF Award, and the third novel, Felaheen (2003), won the British Science Fiction Award and was nominated for the British Fantasy Award.
The first thing that caught my attention was the rather punchy quote from Esquire on the front cover on all three:
Raymond Chandler for the 21st Century.
That's the kind of quote that warms a publicist's heart, for sure. But I thought the one from the Sunday Telegraph was a little more meaty:
All brilliant light and scorching heat… Grimwood has successfully mingled fantasy with reality to make an unusual, believable, and absorbing mystery.
Here's the entirely intriguing back cover text for Pashazade:
Part mystery, part speculative fiction, and wholly unforgettable, Jon Courtenay Grimwood's celebrated Arabesk series portrays the dark, hard-boiled story of a man out to prove his innocence in an alternate world where the facts aren't always the same as the truth… and murder isn't the worst that can happen.

It's a twenty-first century hauntingly familiar — and yet startlingly different from our own. Here the United States brokered a deal that ended World War I, and the Ottoman Empire never collapsed. And lording it over all sits the complex, seductive, and bloodthirsty North African metropolis of El Iskandryia. Almost nothing is what it seems to be in El Isk, and Ashraf Bey is no exception.

Neither the rich Ottoman aristocrat everyone thinks he is, nor the minor street criminal once shipped off to prison when he fell foul of his Chinese Triad employers – the fact is that Raf has as little idea who he is as anyone else.

With few clues and no money, all Raf has is a surname hinting at noble heritage and an arranged marriage to a woman who hates him. But nothing Ashraf al Mansur learns about himself is as unexpected — or as terrifying — as the brutal murder he's accused of committing. Now, as a hunted man with the welfare of a precocious young girl in his irresponsible hands, Raf must race after a killer through an unforgiving city as foreign to him as the truth he'll uncover about himself.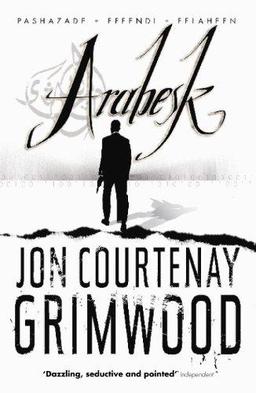 Ashraf Bey's fortune's rise and fall spectacularly through all three novels. It's not much of a spoiler to tell you that, in Pashazade, he's on the run for his life in the streets of the sprawling metropolis of El Iskandriyah; in Effendi, he is the new Chief of Detectives, and in Felaheen, he's an ex-cop hired to protect his mysterious father.
The novels were first published in the UK by Earthlight; all three were published in the US in trade paperback in the same year, 2005, by Bantam Spectra.
They have never been reprinted in mass market paperback, but digital editions are available. All three covers are by Bob Larkin. Copies aren't particularly hard to come by.
All three books were reprinted in a handsome omnibus trade paperback from Gollancz/Orion in the UK, in October 2007 (cover, left, by Stewart Larking.) It has never been printed in the US.
Grimwood's recent novels include Stamping Butterflies (2004), a British Science Fiction Award nominee, and End of the World Blues (2006), which won the British Science Fiction Award.
See all of our recent Vintage Treasures posts here.