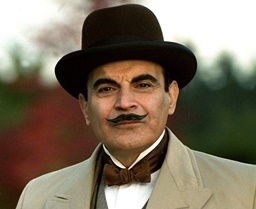 I mentioned last week (which you know, enlightened reader, because you love this column. You probably bookmarked the link as a memoriam to me. Anyhoo…) that I discovered the Nero Wolfe books through the A&E television series starring Maury Chaykin and Timothy Hutton. I'd just never read any of the books, even though the series had been around for decades. And now it's my favorite mystery series of them all (sorry Holmes and Pons).
Well, some thirty-ish years ago (maybe a little more), I read a couple of Agatha Christie books. I remember that one was definitely a Poirot. I didn't care for them and that was that. So, while Christie (alongside The Bard) is reckoned to be the best-selling fiction author of all time, she was absent from my not inconsiderable mystery library.
Then, a few years ago, I began watching the Hercule Poirot television series starring David Suchet (here's a trailer). And I really, really liked it. From 1989 through 2013, Suchet filmed 70 Poirot stories! So, I decided to give Christie's writings a chance again. Well, Poirot, anyways: I'm not sure you could pay me to read Miss Marple. Thus, I bought Hercule Poirot: The Complete Short Stories and had at it. As I write this, I'm on story 19 of 51.
First thing I noticed is how short these things are. Yes, I know they're called 'short stories,' but while I haven't tried counting words, most of them are between 8 and 16 pages long. And that's on big ol' 6" x 9" paper. Also, she was really cranking these out. A new Poirot was appearing almost weekly in The Sketch magazine.
---