The Color Out of Time: Michael Shea Takes a Dip Into Lovecraftian Horror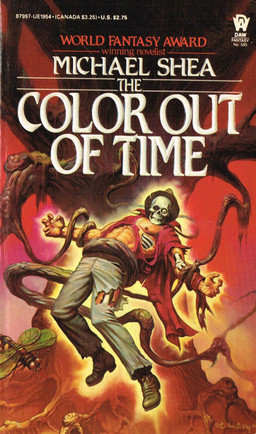 I'll mention this first about Michael Shea's 1984 novel The Color Out of Time: the protagonists consume copious amounts of Wild Turkey. They fortify their coffee with it; they carry hip flasks full of it. This is a fact the narrator always notes casually in passing. Never are the potentially debilitating effects of alcohol mentioned; it simply occurs to the reader that these people might well be past the point of tipsy into "whiskey-river-take-my-mind" territory through much of the central action of the adventure. Perhaps that's how they maintain their sanity. And make no mistake: sanity is but one of the possessions at stake for our heroes, because they have waded head-deep into Lovecraft territory. If they do manage to survive with their sanity intact, though, they might want to consider rehab.
The second thing I'll mention is that because some of my own fictional excursions overlap with Shea's foray into Lovecraftian horror — we tread similar unhallowed ground, digging up the bones of past masters of weird horror and coating them with fresh slime, if you will — I find myself contemplating the book not just as a critic, but as a writer: appreciating moves he makes while noting missteps and potential pitfalls. Ultimately, Shea's sequel to H.P. Lovecraft's 1927 short story "The Colour Out of Space" is entertaining, but slightly off, a tad unsatisfying, and I'll try to pinpoint why — to isolate the juncture at which it diverges from Lovecraft's vision and to articulate how this impacts the effectiveness of the tale. (For a different take on the book, check out Douglas Draa's review for Black Gate last year HERE.)
The premise is straightforward enough. Take the story that is generally regarded as Lovecraft's first successful amalgam of science fiction and horror, a blend that became his unique trademark ("The Colour Out of Space" is one of Lovecraft's most highly regarded and was always, according to Wikipedia, the author's personal favorite. For the sake of full disclosure, it ranks high on my list of best horror stories and is one of my top two or three favorite works by Lovecraft). Start from the central event of that tale and then project its aftermath some sixty odd — very odd — years later.