Vintage Treasures: Shardik by Richard Adams
Vintage Treasures: Shardik by Richard Adams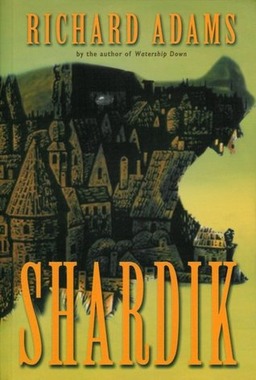 I'm frequently asked what my favorite fantasy novel is. I don't have a standard answer — some days it's The Lord of the Rings, some days Bridge of Birds. If I can get away with it, I sometime say Lord of Light, although that's secretly science fiction (shhh).
But as the years go by, more and frequently I find myself saying Watership Down, by Richard Adams.
Watership Down is a brilliant book — wholly original, uniquely English in both setting and viewpoint, and possessed of the most exciting and satisfying climax I've ever read (go Bigwig, you magnificent Owsla, you.) But it's far from Adam's only fantasy novel — or even his only worldwide fantasy bestseller. He also wrote The Plague Dogs, the tale of two dogs on the run from a secretive testing facility in Britain; Traveller, a retelling of the American Civil War through the eyes of Robert E. Lee's favorite horse; the massive Maia, the story of a sex slave in a fantasy empire; and his short story collection Tales from Watership Down.
And in 1974, only two years after Watership Down, he produced perhaps his most ambitious novel, the epic fantasy Shardik, which The Wall Street Journal said "Grips with suspense, haunts with mystery… not to be read once but to be reread as loved books are."
Shardik struck a chord with readers after it appeared. Fantasy fans expected another animal fantasy, but perhaps weren't expecting the depth of world-building and political intrigue in Adams' Beklan Empire, or his powerful antagonist, the giant god-bear Shardik.
Here's the book description from the back of the 2001 Overlook edition: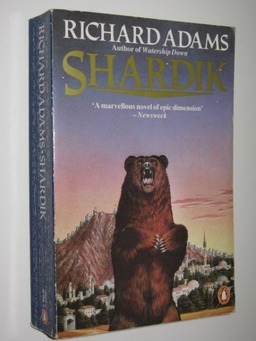 Shardik is a fantasy of tragic character, centered on the long-awaited reincarnation of the gigantic bear Shardik and his appearance among the half-barbaric Ortelgan people. Mighty, ferocious, and unpredictable, Shardik changes the life of every person in the story. His advent commences a momentous chain of events. Kelderek the hunter, who loves and trusts the great bear, is swept on by destiny to become first devotee and then prophet, then victorious soldier, then ruler of an empire and priest-king of Lord Shardik – Messenger of God – only to discover ever-deeper layers of meaning implicit in his passionate belief in the bear's divinity.
A gripping tale of war, adventure, horror and romance, Shardik, on a deeper level, is a remarkable exploration of mankind's universal desire for divine incarnation.
Adams revisited the Beklan Empire ten years later in his 1984 novel Maia, a very loose prequel set roughly a dozen years before the events of Shardik. The books share several characters.
Shardik was published in hardcover by Allen Lane in 1974. It has been reprinted in paperback multiple times; the trade paperback at top was published by Overlook in October 2001. It is 604 pages, priced at $19.95, and currently out of print. The edition at right is from Penguin and I don't know much about it, except that I want one and I can't find a copy.
See all of our recent Vintage Treasures here.