A (Black) Gat in the Hand: Black Mask — May, 1934
A (Black) Gat in the Hand: Black Mask — May, 1934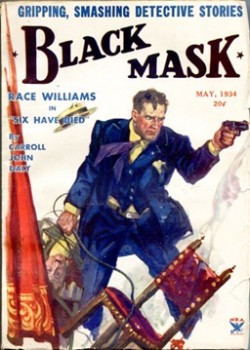 "You're the second guy I've met within hours who seems to think a gat in the hand means a world by the tail." – Phillip Marlowe in Raymond Chandler's The Big Sleep
(Gat — Prohibition Era term for a gun. Shortened version of Gatling Gun)
Last week, we looked at an article on writing from famed Black Mask editor, Joseph 'Cap' Shaw, which appeared in the May, 1934 issue of Writer's Digest. What? You didn't read that post? Well, click on over, do it, and then come back here and continue! Yeesh..
Done? Okay, let's continue.
May, 1934 featured yet another solid issue of Black Mask under Shaw's direction. The cover art was by J.W. Schlaiker, who had about fifty covers from 1929 to 1934. I don't know why he abruptly stopped drawing for Black Mask. He served in France during World War I and was the War Department artist during World War II. He did portraits of Eisenhower, MacArthur and Patton.
Carroll John Daly carried the cover with Race Williams' "Six Have Died," which became part of the novel, Murder in the East. There were two more stories in this serial, which featured  The Flame. There would be one more story ("The Eyes Have It") in November, and then Race Williams was no more in Black Mask. Williams would appear twenty-one times in Dime Detective but his successful career was in decline by May of 1934.
George Harmon Coxe's Flashgun Casey was the subject our the very first post in this column. The hardboiled newspaper photographer was in the midst of appearing in seven consecutive issues; this story being "Two Man Job." I like Casey, who was replaced by the more genteel Kent Murdoch.
From 1927 to 1934, Horace McCoy wrote thirteen stories about Captain Jerry Frost, leader of a group of Air Texas Rangers nicknamed 'Hell's Stepsons.' They were basically a special ops team and Frost was a hardboiled problem solver. "Flight at Sunrise" was the second-to-last Frost story. I don't believe that McCoy's air tales have every been collected.
Of all the pulpsters, none may have had greater pretensions to greatness than McCoy. He's best remembered for his novel, They Shoot Horses, Don't They?, which became a successful film after his death. McCoy was a member of 'The Fictioneers,' which was an informal social club consisting of southern California pulpsters, including, at various times, Raymond Chandler, Norbert Davis, William Campbell Gault and W.T Ballard.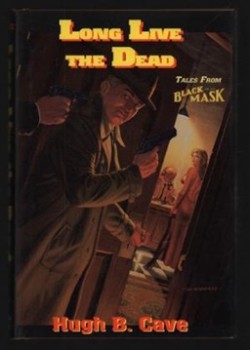 Hugh B. Cave went on to be one of the greats in the weird menace field, but he started out as a hardboiled mystery writer and had been selling stories for four years (he made his first sale at 19) when he broke into Black Mask with "Too Many Women." Cave's Boston PI, Peter Kane, is one of my favorites and a new collection of those stories just came out from Altus Press, with an introduction from yours truly. Long Live the Dead collects all of Cave's Black Mask mysteries – it's good reading.
Bill Lennox (subject of last week's post) was a Hollywood studio troubleshooter created by Willis Todhunter Ballard. If that seems like an unusual middle name, he shared it with his first cousin, Rex Stout – creator of my favorite PI, Nero Wolfe. Lennox was a popular Black Mask character, appearing in over two dozen stories. Ballard also wrote five novels about Lennox; several of which can be found as affordable ebooks. The Lennox series is currently some of my favorite hardboiled reading. Ballard was a popular writer of westerns and wrote screenplays and also had some of his westerns adapted for the screen.
I don't know much about William Rollins' Jr., whose "I am Kidnapped" appeared in this issue. Rollins, who fought for the French in World War I, wrote hardboiled tales about boy heroes – which wasn't really 'done' in the pulps of the day. It seems that his work is all but out of print today in pretty much any format.
That's some quality pulp for twenty cents! The prior month's issue had arguably an even better lineup and I'll probably write about that one as well.
Previous entries in the series:
With a (Black) Gat: George Harmon Coxe
With a (Black) Gat: Raoul Whitfield
With a (Black) Gat: Some Hard Boiled Anthologies
With a (Black) Gat: Frederick Nebel's Donahue
A (Black) Gat in the Hand: Thomas Walsh
A (Black) Gat in the Hand: Black Mask – January, 1935
A (Black) Gat in the hand: Norbert Davis' Ben Shaley
A (Black) Gat in the Hand: D.L. Champion's Rex Sackler
A (Black) Gat in the Hand: Dime Detective – August, 1939
A (Black) Gat in the Hand: Back Deck Pulp #1
A (Black) Gat in the Hand: W.T. Ballard's Bill Lennox
A (Black) Gat in the Hand: The Phantom Crook – Ed Jenkins (next week)
Other hard-boiled related ramblings I've done at Black Gate:
A Century of John D. MacDonald
A Man Called Spade
Asimov's The Caves of Steel
Carroll John Daly & the Birth of Hard Boiled
Cool & Lam are Back!
Erle Stanley Gardner on Mysteries
Gideon Lowry – Key West Private Eye
Glen Cook's Garret – PI
Hard Boiled Holmes (my best pre-Black Gate work. Click on over!)
Hard Case Crime Q&A
John D. MacDonald – A Writer's Writer
Lester Dent's Master Plot Formula
The Maltese Falcon in Film
Michael Stone's Streeter
Richard Diamond – Private Eye
Robert E. Howard Goes Hard boiled (Steve Harrison)
Shovel's Painful Predicament
---
Bob Byrne's A (Black) Gat in the Hand appears weekly every Monday morning at Black Gate.
His 'The Public Life of Sherlock Holmes' column ran every Monday morning at Black Gate  from March 2014 through March 2017 (still making an occasional return appearance!). He also organized Black Gate's award-nominated 'Discovering Robert E. Howard' series.
He is a member of the Praed Street Irregulars, founded www.SolarPons.com (the only website dedicated to the 'Sherlock Holmes of Praed Street') and blogs about Holmes and other mystery matters at Almost Holmes.
He has contributed stories to The MX Book of New Sherlock Holmes Stories – Parts III, IV,  V and VI.
And coming this summer, look for another Robert E. Howard series with an all star cast!