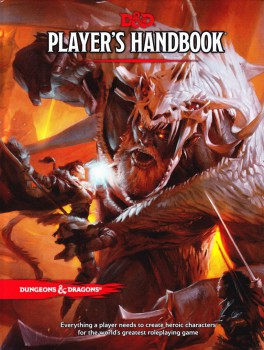 As previously announced, Dungeons & Dragons has released their new 5th edition D&D Player's Handbook (Amazon). This is the flagship product of their revamped new edition of Dungeons & Dragons. At a time when every aspect of the gaming industry seems to be going gangbusters, it's a perfect time for Dungeons & Dragons to relaunch a new version of their rules system. Now that I've had the book for a while, I'm ready to give some initial thoughts on the system.
When I earlier reviewed the Starter Set, I mentioned that I wasn't too fond of 4th edition. Let me clarify that statement a bit in context, because my major problem with 4th edition has a direct bearing on how I view 5th edition. It's not that I disliked 4th edition, per se, it's just that I didn't feel that 4th edition felt like the Dungeons & Dragons game system anymore. If someone had shown up and said, "Hey, I just stumbled upon this brand new RPG system" and shown me a book with the mechanics of 4th edition but without the Dungeons & Dragons branding, I might have been quite impressed. But as a transition from edition 3.5, I saw no reason to give up 3.5 and dive into an entirely new system just to play in the same setting. By contrast, the rules in 3rd edition seemed enough of an improvement over 2nd edition to easily justify the transition.
More importantly, though, I didn't feel that 4th edition was a good entry-level rules system any longer. A year ago, my aunt approached me about my younger cousin (age 12) wanting to begin playing Dungeons & Dragons. I immediately suggested that I could send him my 3.5 edition manuals. I specifically suggested against trying to learn 4th edition rules, unless the kids he was wanting to play with were already using it.
So allow me to begin my review of the 5th edition Player's Handbook by being absolutely clear:
If I were to introduce a brand new player to a fantasy roleplaying game today, the 5th edition of Dungeons & Dragons would be my top choice.
---