Dungeons & Dragons Player's Handbook Now on Sale
Dungeons & Dragons Player's Handbook Now on Sale
In June of 2008, Wizards of the Coast launched the 4th Edition of Dungeons & Dragons with considerable fanfare. While there was a lot of initial interest — and solid early sales — it never truly caught on.
Personally, I enjoyed lot of the supplemental material, like the updated Dark Sun setting and the excellent Shadowfell boxed set, but by 2011 I noticed new releases had slowed to a trickle. Eventually, they stopped entirely.
This was bad news for RPG fans. When sales of the world's most popular role playing game collapse scarcely three years after the launch of a new edition, the entire industry suffers. Was this the end of the most famous game franchise in the adventure game hobby?
Fortunately, it was not. Wizards of the Coast made a major commitment to re-launch D&D, and in January 2012 it announced what was then known as D&D Next. The game had a few name changes over the next two years (it was Fifth Edition for a while, until WotC eventually settled on just Dungeons & Dragons), but for much of that time WotC maintained an open beta on the rules and kept players involved and informed.
It paid off. The buzz surrounding the game has been building nicely. On Tuesday of this week, the first of the three core volumes, the highly anticipated Dungeons & Dragons Player's Handbook, finally shipped (click on the image at left to see it in its high-res glory). And according to io9, it was the number one selling book — of any kind — at Amazon on the day of its release.
We've published several advance reports here, including early reviews from Jon Sprunk and Scott Taylor, and more are forthcoming. Much has been made in the early press around the fact that the core rules are contained in barely 25 pages, making it the most streamlined version of D&D in history.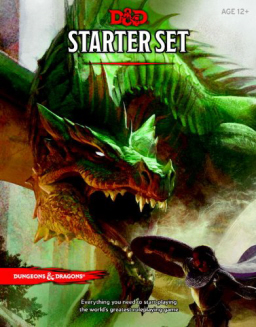 To really assess the new edition of Gygax and Arneson's masterpiece will take some months. For one thing, I don't have a copy yet — and Amazon is out of stock. Also, the remaining two core rulebooks — the Monster Manual and Dungeon Master's Guide — are not yet available. But they will be soon.
But it's not too early to dub the new edition of D&D a qualified success, at least from a marketing standpoint. And I don't mind telling you, I'm relieved to see it. When D&D makes money, game stores and distributors make money. And when game stores and distributors are healthy, the industry is healthy.
The adventure gaming hobby needs Dungeons and Dragons to be a hit, and it looks like it will be. My guess is there are a lot of businesses in our hobby breathing a little easier this week.
WotC has carefully planned the roll out. The D&D Starter Set — a complete, old-school box containing a 64-page adventure, a streamlined 32-page rulebook, five pre-generated characters, and dice — shipped first on July 15th. The first real adventure, 96-page hardcover Hoard of the Dragon Queen, also shipped on Tuesday of this week.
The Monster Manual is due September 30, and the Dungeon Master's Guide on November 18, 2014
The Dungeons & Dragons Player's Handbook was written by the Wizards RPG Team and published by Wizards of the Coast on August 19, 2014. It is 320 pages in hardcover with full color interiors, priced at $49.95. I'm not sure who the cover artist is (does anyone know?), but I quite like the cover.