The Huffington Post on Fantasy Series Better Than Harry Potter
The Huffington Post on Fantasy Series Better Than Harry Potter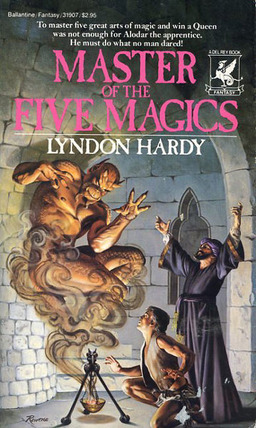 Over at The Huffington Post, author Jeff Somers (The Digital Plague, The Ustari Cycle) holds forth on fantasy worlds that are more appealing than the mega-successful Harry Potter series.
I was surprised to see his list consisted exclusively of vintage paperbacks, including Jack L. Chalker's Midnight at the Well of Souls (1980), Piers Anthony's first Xanth novel A Spell for Chameleon (1977), L. Frank Baum's The Magic of Oz (1919), and Master of the Five Magics (1980) by Lyndon Hardy. Perhaps not coincidentally, all are part of a fantasy series. Here he is on the latter book:
I read this book as a kid, and the magic system Hardy creates remains one of the more interesting and entertaining ones out there. He imagines a universe that has (initially) five magical disciplines: Thaumaturgy, Alchemy, Magic, Sorcery, and Wizardry. Each form of magic has a clear set of rules that govern how it works. For example, Wizardry is the discipline that summons demons, and it has two rules: the Law of Ubiquity, which states that flame permeates all (making it a gateway between worlds), and the Law of Dichotomy, which states that once a demon is summoned it must either dominate the summoner or be dominated. All in all, a logical system that requires the protagonist to actually study and learn and think critically about the magic, instead of waking up one morning with the ability to turn people into newts or something.
Lyndon Hardy wrote two sequels to Master of the Five Magics: Secret of the Sixth Magic (1984) and Riddle of the Seven Realms (1988). He has not returned to fantasy since. Outside of fantasy, he is perhaps best known as the mastermind of the 1961 Great Rose Bowl Hoax.
Read Somers' complete article here.