Vintage Treasures: Horrors Unseen, edited by Sam Moskowitz
Vintage Treasures: Horrors Unseen, edited by Sam Moskowitz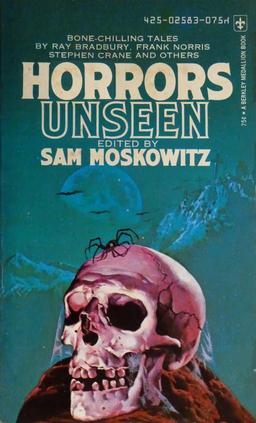 About six months ago I bought a small collection of vintage horror paperbacks on eBay (see the whole set here). It was a delightful batch of books, mostly anthologies and short story collections from the 60s-70s, and I've been gradually working my way through it.
I previously covered Night Fear by Frank Belknap Long, Carl Jacobi's Revelations in Black, and Anthony Boucher's The Compleat Werewolf, from the same set.
Horror anthologies are still published today, of course, and we've covered several recent examples right here. But over the years the market has shrunk enough that they are nowadays exclusively published in hardcover, or (at best) trade paperback. The days of the cheap paperback horror anthology, when a wide range of titles crowded the shelves, are long over. I miss them.
Sam Moskowitz was a well-known editor with some 25 anthologies to his name, and Horrors Unseen was the last. It was the third in a loose series which started with Horrors Unknown (1971) and Horrors in Hiding (1973; edited with Alden H. Norton). Sam was a pulp enthusiast, and these books are crammed full of classic horror tales from the pulps — this one includes the first reprint of C. L. Moore's "Daemon" from Famous Fantastic Mysteries, and other reprints from Imagination!, Colliers, and other places.
Horrors Unseen was edited by Sam Moskowitz and published in June 1974 by Berkley Medallion. It is 208 pages, originally priced at 75 cents. It has never been reprinted, and there is no digital edition, but it's not a rare book and copies are available online for $2-3. The cover artist is not credited, but it sure looks like Vincent di Fate.
Here's the complete TOC:
Introduction by Sam Moskowitz
The Ghost Pirates (novel excerpt) by William Hope Hodgson (1909)
"The Silent Ship" by William Hope Hodgson (1909)
"The Ship That Saw a Ghost" by Frank Norris (1902)
"The Bat King" by James Hilton (Colliers, July 3, 1937)
"Daemon" by C. L. Moore (Famous Fantastic Mysteries, October 1946)
"Mountains of the Moon" by Laurence Housman (1899)
"Passeur" by Robert W. Chambers (English Illustrated Magazine, October 1897)
"A Tale of Mere Chance" by Stephen Crane (English Illustrated Magazine, March 1896)
"Hollerbochen's Dilemma" by Ray Bradbury (Imagination!, January 1938)
See all our recent Vintage Treasures here.