Redwing in Flight
Redwing in Flight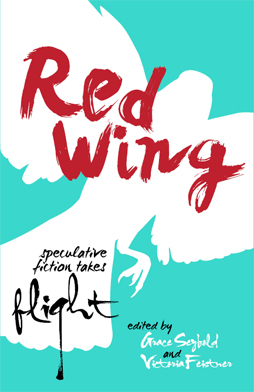 There's a new anthology out that I want to talk about, partly because of what it is and mostly because I think it's quite good. But you shouldn't trust me on this. I'm going to be honest, in that I'm going to write what I think about the book, but what I think may be shaped by my connection to it: my girlfriend, Grace Seybold, is the editor. So.
The book is called Redwing, and it's available as an ebook at Amazon and the Kobo store. It's officially published by Grace&Victory Publications, a micropress consisting of Grace and graphic designer Victoria Feistner. There are ten stories in the book, all science fiction and fantasy, mostly by new or up-and-coming writers.
Redwing is entirely Grace and Victoria's project; I had no input on it, and did not read any of the submissions until I read the final product after it was published. When I did, I was impressed. Any anthology's going to be a mixed bag, but I thought the book did what good anthologies do: create a kind of overall feel in which the tonal variety of the stories becomes a strength, while still developing an identity as a whole. Anchored by some stories that I feel are stand-outs by any definition, Redwing seems to me to be an excellent small-press production.
Which is one of the things I find interesting about the book: its status as a creation of a small press. I've heard a lot about how self-publishing through Amazon and similar venues is now a viable choice for authors, but Redwing's proof that changes in the market are also making things easier for people to found 'micropresses.' In this case, a micropress consisting of two people. Grace is a writer — with stories in venues including Tesseracts 12 and This Is How You Die — and a freelance editor; Victoria is a professional graphic designer, who has sold some stories herself. Between them, they have the skillset necessary to package a book. And so they did. Let's take a look: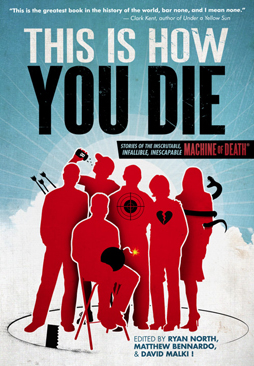 Redwing opens with "Death by Association" by Martine Helene Svanevik, an atmospheric urban fantasy set in Montreal. The sense of place is strong, and the small scale of events fits nicely with the narrator's background and fatalism. "Ticker Tape Kings" by Ashleigh Rajala is next, a time travel story unlike any I've read. It plays around with tenses and with conventions — not so much conventions of time travel, but of time travel stories. Elegantly written, it gives the protagonist a difficult character-based choice to make, and follows her as she makes it.
"The Epic of Roman Romanov," by Jake Ristic-Petrovic, is an excellent change of pace. It's a sardonic tale about an interplanetary jewel thief, and plays about with structure in a deeply rewarding way. David Wright's "Song of the Whale Rider" blends science fiction with an almost Old Testament feel before ending with a sort of folktale motif produced by scientific means. An effective blend of approaches, it's written with a simplicity that brings out the mythic undercurrents.
"Which Animal?" by Tristan Sowles aims at a lighter feel, a fantasy about wizards trying to find the right tools, or spell component, for a difficult job. John Grey's "In From the Cold" is science-fiction about a man waking up from cryogenic suspension to find a bleaker future than he'd hoped; it's unusual in that it's clearly setting up a twist ending, but the twist at the end is not necessarily the one you might think. "Nickel Nights," by Emily Andrews, is a strange tale about the Big Nickel of Sudbury, Ontario, and a weird future in which Sudbury residents have their brains altered by a rebuilt nickel's influence. Although they've developed strange powers, this isn't a super-hero tale; it's actually, as I read it, an inversion of Jerome Bixby's famous Twilight Zone-adapted "It's a Good Life". Taylor Johnson's "The Spear of the Ancients" is straight-ahead fantasy adventure with three adventurers trying to recover a valued treasure of their people, and coming to an unexpected end.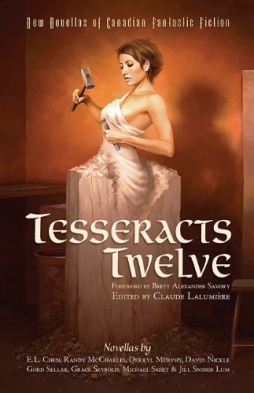 "A Hand of Palaver" is next. I have to say that it was written by someone I know, but at the time I read it I didn't know that (it's credited to A.E. Prevost, and I didn't make the connection from the intitials). For what it's worth, then, I thought it was excellent. It's based around a game, palaver, played by three adventurers and a girl travelling with them. Palaver's a card game that's also a storytelling game; so far as I can tell it's original to the story. That's impressive in that it strikes me as a good game, simple but very playable, and even more impressive in that it's the key to the structure of the overall narrative. "A Hand of Palaver" is a set of stories-within-a-story, which build to an explosive climax. Character's a strong point here; each of the four players has an inventive background, but who they are really comes out through the stories — what stories they choose to tell, and why, and the language they use, and the other stories the other players bring up in response or to give context.
The book ends with "Kaupoai and the Gilhag," by Laura DeHaan, and it's a tremendously fine closer, arguably the best story in the book and certainly one of the most imaginative. Set in a kind of post-Western future, it's a first-person story from the perspective of a cursed Maori cowboy (because in the future the Maori colonise the western US) who travels from the American West to the deep forests of a Europe "where people are as sparse as the hair on a woman's toe," and where he runs afoul of deeply strange things. Stylistically, I think it's the strongest story in the book; Kaupoai Crow-Feed, our narrator, has a wonderful voice and is a hell of a storyteller, spicing his narration with the sayings of cowpokes like "Slow-Hand Hank, Armadillo Sam, [and] Lucy the Goose-Necked Gunshot." It's funny, fast, and pays off splendidly at the end.
So all in all, I think Redwing's interesting not only on its own but as a sign of what now can be done with minimal resources. It is probably true that, in the context of the industry as a whole, making it easier to publish is a mixed blessing. But it is certainly true that ease of publishing makes it easier for people to try new things. And so sometimes something unexpected comes along, from a source that wouldn't otherwise exist. It seems to me that Redwing's a considerable success, in that it's both clearly superior to some anthologies I've read from much larger publishing houses, and also seems to me clearly worth the price of admission. And it exists largely due to the march of technology and the current state of the marketplace. I wonder how many other anthologies like Redwing are out there, and how many more will come?
---
Matthew David Surridge is the author of "The Word of Azrael," from Black Gate 14. His ongoing web serial is The Fell Gard Codices. You can find him on Facebook, or follow his Twitter account, Fell_Gard.