Vintage Treasures: Horrors Unknown, edited by Sam Moskowitz
Vintage Treasures: Horrors Unknown, edited by Sam Moskowitz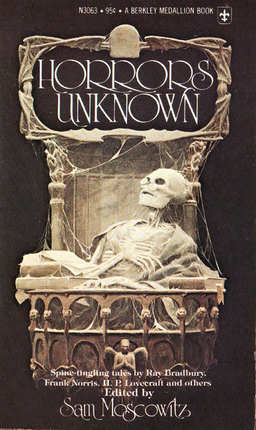 I think of Sam Moskowitz primarily as an SF historian, perhaps the greatest the field has ever known.
His book The Immortal Storm, a history of early fannish feuds, is still read and discussed today, and his numerous biographical articles on 20th Century SF writers — published in an assortment of SF digests in the 50s and 60s — were eventually collected into two popular books, Explorers of the Infinite and Seekers of Tomorrow. He was a tireless advocate for SF, and was famously the chairman of the first World Science Fiction Convention in New York City in 1939 at just nineteen years of age. He was so strongly associated with early pulp SF, primarily as a collector and genre evangelist, that Isaac Asimov dedicated Before the Golden Age to him.
But Moskowitz was also an editor of no little note, with some two dozen titles to his name. I recently stumbled on one of his first horror anthologies, Horrors Unknown (1971), which collects early 20th Century short fiction from Edison Marshall, Fitz-James O'Brien, Ray Bradbury, and many others — including a Jules de Grandin novelette by Seabury Quinn, a Northwest Smith novelette from C. L. Moore, and an incredible round-robin Cthulhu Mythos tales by none other than H. P. Lovecraft, C. L. Moore, A. Merritt, Robert E. Howard, and Frank Belknap Long.
Two more horror anthologies followed this one: Horrors in Hiding (1973; edited with Alden H. Norton) and Horrors Unseen (1974). The latter was his final anthology. Sam Moskowitz died in 1997, at the age of 76.
Sam wrote fascinating and detailed introductions — author appreciations, really — for each story, and his love and knowledge of the field shine through in every one.
The publishing industry has changed a lot since Horrors Unknown appeared, and mostly for the better. One thing I miss? Top-notch anthologies of classic pulp horror used to be available in supermarkets and bookstores for under a buck. Today, this would have to be a small press undertaking (if it could be published at all), and its primary market would be collectors… not fresh-faced kids staring in wonder at the cover, and rooting through their pockets for spare change.
Here's the complete Table of Contents.
Introduction by Sam Moskowitz
"The Challenge from Beyond," by H. P. Lovecraft and C. L. Moore and A. Merritt and Robert E. Howard and Frank Belknap Long (Fantasy Magazine, September 1935)
"The Flying Lion," by Edison Marshall (The Blue Book Magazine, August 1919)
"Grettir at Thorhall-stead," by Frank Norris (Everybody's Magazine, April 1903)
"Werewoman," by C. L. Moore (Leaves #2, 1938)
"From Hand to Mouth," by Fitz-James O'Brien (New York Picayune Newspaper, March 27/May 15, 1858)
"Body and Soul," by Seabury Quinn (Weird Tales, September 1928)
"Unseen — Unfeared," by Francis Stevens (People's Favorite Magazine, Feb 10, 1919)
"The Pendulum," by Ray Bradbury (Futuria Fantasia, Fall 1939)
"Pendulum," by Ray Bradbury and Henry Hasse (Super Science Stories, November 1941)
"The Pool of the Stone God," by A. Merritt (American Weekly, September 23, 1923)
Horrors Unknown was originally published by Walker & Co. in 1971, and reprinted in paperback by Berkley in 1976. It is 210 pages, priced at $0.95 in paperback. There is no current edition and it has been out of print for nearly 40 years.
See all of our recent Vintage Treasures here.