Art of the Genre: Reki Kawahara, Depression, and Sword Art Online
Art of the Genre: Reki Kawahara, Depression, and Sword Art Online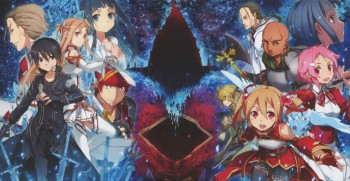 I read an article a while back that very eloquently debated the theory that online games, specifically Massive Multi-Player Online Role-Playing Games [MMORPGS], were the root cause of depression. There were arguments on both sides, of course, but after I was done, I couldn't help but side against them actually causing the mental disorder.
You see, I live in a world of artists and writers, and that means depression is probably the most prevalent topic [both overtly and covertly] among my fellows every day of the year.  Some cope better than others, some take drugs, and in the extreme, some take their own lives. It is a hard truth, but as I sit and think about it, I've come to the conclusion that no matter who you are, you carry depression with you.
Depression is a constant but varied affliction of the human condition, and to those suffering the least, perhaps a nightly sitcom and a bowl of popcorn stave off the stresses of a cubical lived workday. As above, for the worst cases, like Robin Williams last week, the only true escape seems to call for the end of it all on a permanent basis.
As with any Bell Curve, I think the bulk of Americans and their First World Problems (I know Ethiopia, you are currently crying us a river) are in some comfortable (yet stoically miserable) place right in the middle.  This is where online gaming might come into play.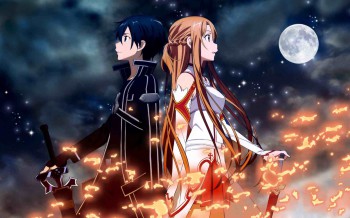 There are several aspects of online gaming that support depression, including human connectivity (although the current theories bouncing around hypothesize that the more you are socially connected online, the lonelier you are, ala Facebook's 'a man dying of thirst in an ocean of salt water' syndrome),  the effect of a kind of escape into a world that can be explored (the Travelers Syndrome, where you are trapped by your real world life and dream of seeing the world but can't), and last but most important, a feeling of control and power that is denied you at work, school, marriage, family, and by your bank account.
For me, most days are brighter than the bulk of that curve, but when times get tough (and they always do), I find myself thinking about the escape that such games offer.  It's been two years this October since I last played an MMORPG, my second journey into Final Fantasy XI, but I still dream of it on occasion, as I do my darkest and yet somehow brightest days playing Star Wars Galaxies from 2003 to 2005.
And finally, to get to the real point of this article, I was then intrigued this week, with my wife away training in New Jersey, to find an anime in the Netflix new releases called Sword Art Online.
The work is the brainchild of Reki Kawahara and was initially written as a short story (that turned into a novella) for the Japanese writing competition Dengeki Game Novel Prize in 2002.  The story ended up being over the word count, however, so he didn't submit it.  In 2008, he entered another story, Accel World, which won the grand prize of the competition and gained him enough market influence to have Sword Art Online pulled from his website (as a free publication) and recast as what the Japanese refer to as a Light Novel (more of an American dime store novel that runs just over 150 pages with some minimal artwork), that is still popular in the Asian markets today.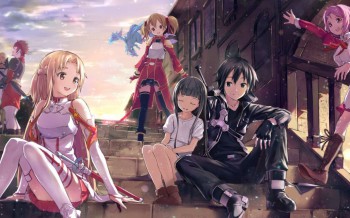 As the series grew into a kind of cult classic, it was eventually picked up for animation by A-1 Pictures and taken to novels and manga by Yen Press for the U.S. market.
Since my only real introduction to the art of Sword Art Online comes from the A-1 Pictures animation (and not the abec illustrations from the manga or light novels) I have to say upon seeing it firsthand that I was pleasantly impressed.
One thing I always find irritating about animation is the static clothing and equipment that most characters wear in extended series (another hot button of mine for four color comic heroes).  However, Sword Art Online does a great job of showing the almost episodic evolution of an MMORPG character's equipment over the course of the series.   It truly adds to the believability of the program and had me hearkening back to my days in Final Fantasy XI when I started with crap equipment and eventually moved up to epically cool stuff by my endgame.
Still, the main point to anyone watching Sword Art Online is the nature of human existence outside the realm of modern living.  In essence, it is escapism to the nth degree, and as I watched (as was captivated) by the first fourteen episodes that comprise Season One, I couldn't help but see reflections of myself and so many other gamers throughout.
Kawahara does a masterful job of investing what I believe to be himself in the initial offering, and for that there is no doubt about its validity and captivating quality for online gamers, especially those who have ever played an MMO.  Sadly, the series itself is far too short, but what else could be expected from a series designed around a novella?  In the end, I felt cheated and yearning for more, but like Ender's Game or the Sixth Sense, you can't really 'go back again' and feel the same way about what you are watching.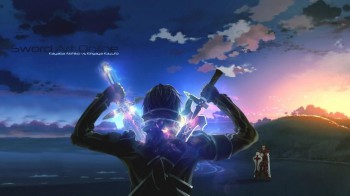 That sad fact, however, didn't stop the media and corporate machine from getting Kawahara to continue writing.  Season Two, released in July 2014 and also available on Netflix, is a shadow of the glory of the first and leaves a bad taste in one's mouth.  If anyone out there is considering watching this series, then I strongly suggest stopping at Episode 14 and being done with it, as you will be much happier afterward.
Nonetheless, Kawahara has continued writing Sword Art Online in total of four series thus far, the first two also available in Light Novels from Yen Press in the U.S., with the third series pending for fall release.  A part of me wants to journey into that third series and hope that Kawahara somehow finds his way 'back' again, but I have little hope of that after watching Season Two.
Whatever the case, I'm still thrilled to have found Sword Art Online, and would highly recommend it to anyone who has played and enjoyed an MMO over the years, especially if you are ever feeling a bit down and want to escape into fond fantasy memories, because it is perfect fodder for that.
If you like what you read in Art of the Genre, you can listen to me talk about publishing, and my current venture with great artists of the fantasy field, or even come say hello on Facebook here. And my current RPG Art Blog can be found here. You can also view AotG's newest Kickstarter below!