Vintage Treasures: Horrors in Hiding edited by Sam Moskowitz with Alden H. Norton
Vintage Treasures: Horrors in Hiding edited by Sam Moskowitz with Alden H. Norton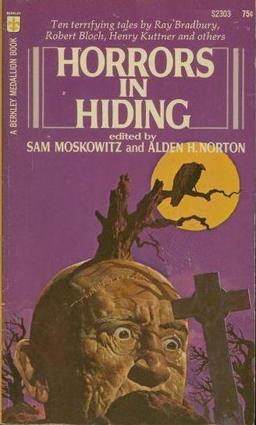 Horrors in Hiding is the second in the trilogy of anthologies Sam Moskowitz edited for Berkely in the early 70s, and the only one we haven't covered. The first was Horrors Unknown (1971), and the last (and the final anthology Moskowitz ever produced) was Horrors Unseen (1974).
It's also the only one co-edited with Alden H. Norton, a noted anthologist in his own right, who co-edited four books with Moskowitz, including The Space Magicians and Ghostly By Gaslight (both in 1971).
I like Vincent Di Fate's cover, which is moody and very striking. Although it's awfully purple, and a little puzzling if you stare at it too long. (Is that dude eating a rock?)
The blurb on the back is short and to the point:
WARNING: Lock your doors before unleashing Horrors In Hiding. Ten grim and gruesome tales of the macabre guaranteed to chill your blood and shatter your nerves.
I count only nine stories, but let's not be picky. They are grim and gruesome, and that's what matters.
Moskowitz was a die-hard pulp fan, and half the stories within — those by Seabury Quinn, Robert Bloch, Henry Kuttner, August Derleth and Ray Bradbury — are culled from pulp magazines like Weird Tales and Strange Stories. The rest — by Arthur Conan Doyle, O. Henry, John Kendrick Bangs and Nathaniel P. Babcock — are much older.
As usual, Sam wrote fascinating and detailed introductions — author appreciations, really — for each story, and his love and knowledge of the field shine through. Sometimes I think Moskowitz produced these anthologies just so he'd have an excuse to talk about his favorite writers.
Here's a sample of the pulp magazines the stories originally appeared in.
[Click the pictures for bigger images.]
And here's the complete table of contents.
Introduction by Sam Moskowitz and Alden H. Norton
"Two Shall Be Born" by Seabury Quinn (Weird Tales, January 1941)
"Tell Your Fortune" by Robert Bloch (Weird Tales, May 1950)
"Time to Kill" by Henry Kuttner (Strange Stories, June 1940)
"Alannah" by August Derleth (Weird Tales, March 1945)
"Luana the Living" by Ray Bradbury (Polaris, Vol. 1, #3, June 1940)
"John Barrington Cowles" by Arthur Conan Doyle (1884)
"The Door of Unrest" by O. Henry (1904)
"Thurlow's Ghost Story" by John Kendrick Bangs (1894)
"The Man with the Brown Beard" by Nathaniel P. Babcock (1896)
Horrors in Hiding was published in paperback by Berkley in February 1973. It is 192 pages, priced at $0.75 in paperback. There is no current edition, and it has been out of print for over 40 years.
See all of our recent Vintage Treasures here.