Vintage Treasures: Night Fear by Frank Belknap Long
Vintage Treasures: Night Fear by Frank Belknap Long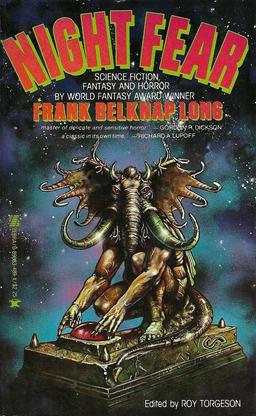 Frank Belknap Long isn't well remembered today. He wrote nearly 30 novels, including Space Station 1 (1957), Mars is My Destination (1962), The Horror from the Hills (1963), and Survival World (1971), most of which have been out of print for over 40 years.
But his short fiction has fared a little better. Long was part of the Lovecraft Circle, and indeed was a close friend of Lovecraft's for many years (James McGlothlin has a great pic of the two, accompanying his article on The Lovecraft Circle at the First World Fantasy Convention.) His contributions to the Cthulhu Mythos, including "The Hounds of Tindalos" and "The Space Eaters," are still highly regarded today.
Long's short fiction was gathered in four paperback collections: Odd Science Fiction (1964), The Rim of the Unknown (1972), The Hounds of Tindalos (1978) and Night Fear (1979). They are long out of print, but most of his finest short fiction was collected in Masters of the Weird Tale: Frank Belknap Long (2010), a gorgeous limited edition hardcover from Centipede Press.
Night Fear collects fiction spanning nearly three decades from 1925 to 1953, originally published in the pulp magazines Weird Tales, Astounding Science Fiction, Startling Stories, Unknown, Super Science Stories, and Dynamic Science Fiction. It includes the famous Cthulhu Mythos novella "The Horror from the Hills," first serialized in Weird Tales in 1931 and built on a dream H. P. Lovecraft had which Long incorporated in the tale nearly verbatim, and "It's a Tough Life," a 1942 essay from Astounding Science-Fiction in which Long discusses L. Sprague de Camp's 1940 article on bizarre terrestrial life.
Here's the complete table of contents.
Introduction by Roy Torgeson
"To Follow Knowledge" (Astounding Science-Fiction, December 1942)
"Willie" (Astounding Science-Fiction, October 1943)
"Prison Bright, Prison Deep" (Astounding Science Fiction, August 1950)
"Two Face" (Weird Tales, March 1950)
"Invasion" (Startling Stories, July 1950)
"Humpty Dumpty Had a Great Fall" (Startling Stories, November 1948)
"The Unfinished" (Super Science Stories, April 1951)
"Night-Fear" (Dynamic Science Fiction, October 1953)
"The Mississippi Saucer" (Weird Tales, March 1951)
"The Horror from the Hills" (Weird Tales, January & February-March 1931)
"And We Sail the Mighty Dark" (Startling Stories, March 1948)
"The Horizontals" (Super Science Stories, November 1940)
"It's a Tough Life" (Astounding Science-Fiction, November 1942)
"The Man from Nowhere" (Unknown Fantasy Fiction, June 1940)
"Johnny on the Spot" (Unknown, December 1939)
"The Were-Snake" (Weird Tales, September 1925)
And here's the back cover, with a pair of great reviews from Gordon R. Dickson and Richard Lupoff (click for bigger version):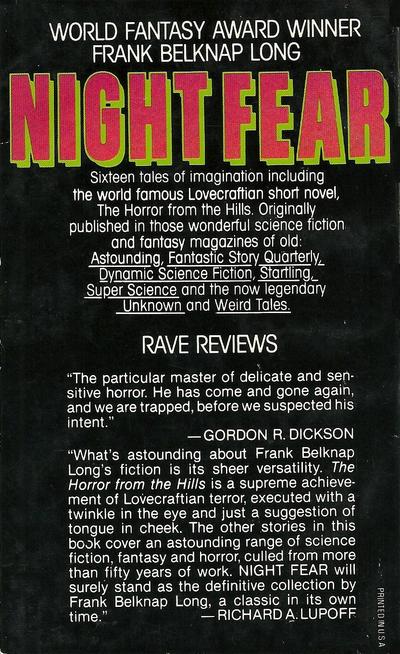 I appreciate how the publisher called out "those wonderful science fiction and fantasy magazines of old" so prominently on the back cover. I'm not sure if that was somehow considered a selling point in 1979, or just seemed like a good idea. Still, glad to see it.
Douglass Draa discussed Long in more detail in an article in 2012.
The Zebra paperback edition of Night Fear remains fairly easy to find; copies in great condition sell for $6 – $8 on eBay. I bought the copy pictured above as part of a collection of horror anthologies that also included Sam Moskowitz's terrific Horrors Unknown, which I covered here two weeks ago. The lot cost $25, or about $2.30 per book (plus shipping). I'm telling you, buying lots is the way to go.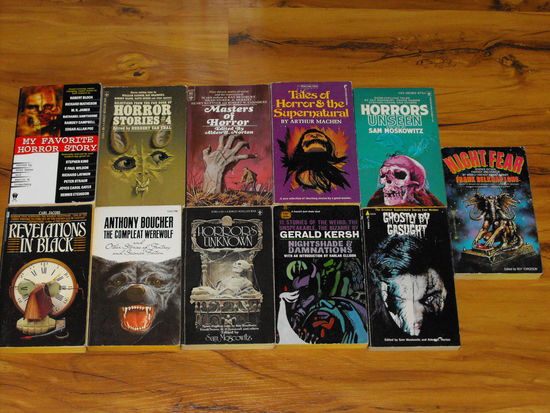 Night Fear was edited by Roy Torgeson and published by Zebra Books in June, 1979. It is 320 pages, priced at $2.25. The colorful cover is by Clyde Caldwell.
My copy has ads in the back for David C. Smith's Oron, Garrett Ford's anthology Science and Sorcery, and the first three volumes of Andrew Offutt's Swords Against Darkness. Sure seems like Zebra was doing a lot of favors for fantasy fans in the late 70s.
See all of our recent Vintage Treasures here.