Vintage Treasures: Science and Sorcery edited by Garret Ford
Vintage Treasures: Science and Sorcery edited by Garret Ford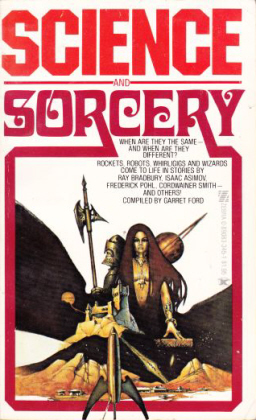 A few days ago I mentioned Martin H. Greenberg's impressive collection of paperback SF and Fantasy, and the three boxes of that collection I carted back from the Windy City Pulp and Paperback Show. Two are now incorporated in my library. I set aside roughly a dozen of the more interesting titles to talk about here, and the first one is Science and Sorcery, an anthology of pulp SF stories from 1978.
It was published by Zebra, a pretty low-budget outfit. So low-budget, in fact, that it doesn't even have a table of contents.
Who publishes an anthology without a table of contents? That's pretty edgy. A publisher desperate to save paper, apparently. The whole thing feels slapped together, from the introduction on the back of the title page to the oddly formatted first story, Cordwainer Smith's "Scanners Live in Vain" (page 3).
Fortunately, science fiction fans are a diligent and industrious lot, and I found a complete TOC online (at the book's Wikipedia page, believe it or not). Here it is:
"Scanners Live in Vain", by Cordwainer Smith
"The Little Man on the Subway," by Isaac Asimov & James MacCreigh
"What Goes Up," by Alfred Coppel
"Kleon of the Golden Sun," by Ed Earl Repp
"How High on the Ladder?" by Leo Paige
"Footprints," by Robert E. Gilbert
"The Naming of Names," by Ray Bradbury
"The Eyes," by Henry Hasse
"The Scarlet Lunes," by Stanton A. Coblentz
"Demobilization," by George R. Cowie
"Voices from the Cliff," by John Martin Leahy
"The Lost Chord," by Sam Moskowitz
"The Watchers," by R. H. Deutsch
"The Peaceful Martian," by J. T. Oliver
"Escape to Yesterday," by Arthur J. Burks
A pretty eclectic mix, to be honest. Can't remember the last time I saw an anthology with fiction by Sam Moskowitz. Or James MacCreigh, Ed Earl Repp, Leo Paige, Robert E. Gilbert, George R. Cowie, John Martin Leahy, R. H. Deutsch, or J. T. Oliver, for that matter. I don't want to say this anthology primarily consists of nobodies, but it looks like this anthology primarily consists of nobodies.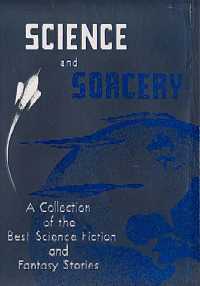 Well, let's be charitable and say that it consists of underappreciated and underrepresented writers. According to the copyright page, most of the stories originally appeared in Fantasy Book, a semi-pro magazine that published eight issues between 1947 and 1951. The rest come from Thrilling Wonder Stories, The Vortex and Weird Tales.
Science and Sorcery was originally published in hardcover in 1953. The editor was Garret Ford, a pseudonym for William L. Crawford, publisher of Marvel Tales. The original edition came from his publishing company, Fantasy Publishing Company, and was limited to 500 copies.
The Crawford Award, given out every year since 1985 at the International Association for the Fantastic in the Arts (IAFA) to the best first fantasy novel, is named in his honor.
Although the paperback reprint didn't seem to get much love, I note the 1953 edition didn't fare that much better. The distinguished reviewer P. Schuyler Miller, writing in the December 1954 issue of Astounding Science Fiction, said it was "pretty poor stuff by present-day standards."
Ah, well. All of that is irrelevant to the joy I experienced on finding a copy among Martin H. Greenberg's collection. Science and Sorcery was one of the first paperback SF anthologies I ever purchased back in the late 70s, and I treasured my early copy.
Holding it again was a special thrill. This is only the second copy I've ever seen, and I'm glad to have it.