Doug Draa looks at Frank Belknap Long
Doug Draa looks at Frank Belknap Long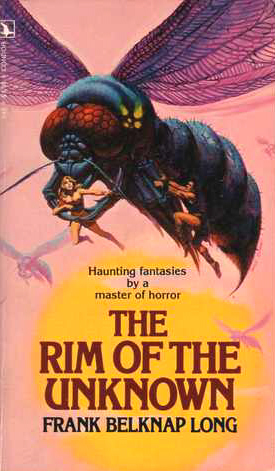 Doug Draa has kicked off a new blog dedicated to the golden age of Horror Anthology Paperbacks. His first subject is the much-overlooked pulp master Frank Belknap Long:
I've enjoyed Mr. Long's stories since the middle 70s when I first read "The Space Eaters" in Tales of the Cthulhu Mythos, Volume 1. He was a correspondent of Lovecraft's and wrote several stories incorporating HPL's Cthulhu Mythos. His attempts at Mythos writing were successful enough that his "Hounds of Tindalos" are more or less accepted as canon.

His stories are pure pulp and crazy enough to stand above the normal horror fare of the 30s and 40s. I find "The Space Eaters" to be one of the very best non-HPL penned Mythos tales ever. It tells of an invasion from beyond (actually from outside and between) in such a cold hearted and nonchalant manner without any of HPL's typical histrionics that it is truly unsettling without ever being "over the top". Hats off to the man! But as far as craziness goes, how can you not love such titles as "The Flame Midget," "The Man with a Thousand Legs" or "The Horror from the Hills"?
Indeed. Frank Belknap Long published a host of stories in the pulps and several fine collections, including The Early Long, Odd Science Fiction, The Hounds of Tindalos, The Rim of the Unknown and Night Fear.
He wrote nearly 30 novels, including Space Station 1 (1957), Mission to a Distant Star, Mars is My Destination (1962), The Horror from the Hills (1963), Monster From Out of Time (1970), and Survival World (1971).
I don't see a lot of blogs devoted to vintage horror anthologies, but if all the entries are as informative as this one, I'll be a regular visitor.
You can find Doug's blog, Uncle Doug's Bunker of Horror, here.