New Treasures: The Library of America's A Princess of Mars and Tarzan of the Apes
New Treasures: The Library of America's A Princess of Mars and Tarzan of the Apes
So yeah, I saw John Carter. And I liked it. Liked it enough that I went twice, actually. Been a while since I did that.
Still looks like it's going to be the biggest box office bomb of the year, but these things happen. Doesn't mean it's not a good movie. And let's face it — it's helped introduce a whole new generation to the classic science fantasy of Edgar Rice Burroughs.
And not just all those young punks playing video games who don't read books anymore.  I'm talking about a great many supposedly well-read science fiction and fantasy readers who never bothered to give ERB the time of day.
People like, y'know, me. For instance.
Sure, I'm fairly well read in SF and fantasy. And I have a (nearly) complete set of Edgar Rice Burroughs Mars books in paperback, picked up here and there at garage sales because I liked the covers. But Burroughs just never really appealed to me in my youth, and I never bothered to read them.
I loved the colorful action-adventure of the great pulp serials, but the mid-1930s was about as far back as I went.  Give me Asimov, van Vogt, Clifford D. Simak, Charles Tanner, H.P. Lovecraft. But if you appeared before they did — if your name was H.G. Wells, Jules Verne, or Edgar Rice Burroughs, for example — then you were just old.
Well, it's never to late to correct past mistakes. Especially when The Library of America is making it easy with two beautiful keepsake volumes celebrating the centenary of Burroughs' most famous creations: Tarzan of the Apes and John Carter of Mars.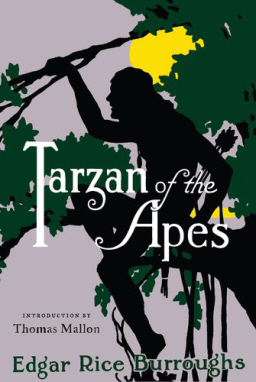 Both volumes feature cover designs replicating the original hardcover releases, high quality sewn bindings, original illustrations, and new introductions. John Carter is introduced by Junot Diaz, Pulitzer Prize-winning author of The Brief Wondrous Life of Oscar Wao, and Tarzan by Thomas Mallon, author of Dewey Defeats Truman.
A Princess of Mars was originally serialized (as Under the Moons of Mars) in The All-Story magazine between February and July 1912. It was retitled A Princess of Mars for its first hardcover appearance in October 1917, published by A.C. McClurg & Company.
Tarzan of the Apes originally appeared in All-Story in October 1912; it was first published in hardcover in 1914.
Both volumes of the new Library of America editions went on sale April 12, 2012 for $20 each.
These hardcover facsimile editions are compact and beautiful. Although these's no details on additional volumes in the marketing literature LoA sent along, they refer to them as "Inaugurating an occasional series devoted to the major characters of American popular literature."
So maybe that means there will be additional Burroughs volumes published. Cross your fingers.
In the meantime, you can certainly enjoy these. I know I am.