Is John Carter a Flop?
Is John Carter a Flop?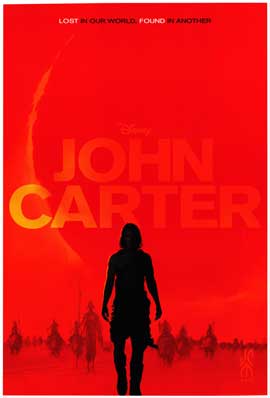 I've been enjoying Ryan Harvey's enthusiastic review of the new Disney film John Carter, although I wasn't able to make it to the local metroplex to see it myself this weekend. Apprently, I wasn't the only one.
Entertainment Weekly, in assessing the weekend box office take, calls the film "one of the most high profile box office misfires in years."
Carter really needed to open to $50 million at a bare minimum. Other films that reportedly cost around $250 million include Spider-Man 3, Harry Potter and the Half-Blood Prince, Pirates of the Caribbean: On Stranger Tides, and Avatar, and those four movies debuted to an average of $99 million. John Carter, on the other hand, collected an estimated $30.6 million this weekend… a dismal showing for such a costly project.
Today's New York Times, in an article titled Ishtar Lands on Mars, estimates the film's total cost at closer to $350 million:
John Carter, which cost an estimated $350 million to make and market… took in about $30.6 million at the North American box office… That result is so poor that analysts estimate that Disney will be forced to take a quarterly write-down of $100 million to $165 million. The amount will depend on ticket sales overseas, where John Carter took in about $71 million over the weekend, a better total than Disney had feared…

Because of its enormous cost and the way ticket sales are split with theaters, analysts say the film needs to take in more than $600 million globally to break even. The only silver lining for Disney may be a dubious one: last March the studio's Mars Needs Moms flopped so badly that it also required a write-down, making year-on-year performance comparisons less brutal.
Although the numbers look grim, $71 million overseas is nothing to sneeze at. With a combined weekend take over over $100 million, it may be too early to label John Carter a clear bomb. We'll see what the future holds… and I still plan to see it this week.