New Treasures: Allen K's Inhuman Magazine #5
New Treasures: Allen K's Inhuman Magazine #5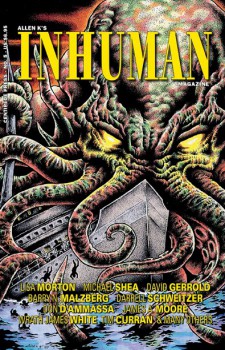 Allen Koszowski is almost supernaturally talented.
I first hired him more than a decade ago, when I was desperate to find an artist who could capture the eldritch horrors of Edmond Hamilton's classic "The Monster-God of Mamurth," a tale of ancient desert ruins and unlucky explorers from the August 1926 Weird Tales, which I reprinted in Black Gate 2. Allen's work for Cemetery Dance, Whispers, and Weird Tales convinced me he was the guy.
He delivered three knockout pieces of art (see the first here). And the envelope they arrived in was stuffed with additional pieces which he offered for free. It was remarkably generous, and I was glad I was able to hire him again for Black Gate 3.
Since 2004 Allen has been publishing his own horror magazine, Allen K's Inhuman Magazine. Every issue he assembles the top names in dark fantasy and horror, and he handles the art for each story personally.
The results have been consistently excellent, but with Issue 5 Allen has outdone himself. This issue Centipede Press has taken over production, and the magazine looks better than ever. To showcase other artists Allen has added a gallery, highlighting the Lovecraft Mythos work of Randy Broecker, Bob Eggleton, Jill Bauman, David Carson, and others, although Allen still handles the cover and interiors. Click on the image at left to get a closer look at his cover art for this issue.
This issue features fiction by Michael Shea, Darrell Schweitzer, Tim Curran, Tim Waggoner, James S. Dorr, Christopher M. Cervasco, John Pelan, and many others. The magazine is huge — 208 pages! — and copiously illustrated. It is perfect bound for the criminally low price of just $6.95, which makes it the single best buy you'll hear about all week.
My thanks to my buddy Chris Cervasco for tipping me off that the magazine was available. Like many beautiful and precious things, copies can be hard to come by. I bought mine from the excellent online seller The Overlook Connection, who still have most issues in stock. There's also ordering information on Allen's website.
Support an excellent magazine, and discover a terrific source of quality dark fantasy. It's a win-win. Buy your copy today!