The Lovecraft Circle at the First World Fantasy Convention
The Lovecraft Circle at the First World Fantasy Convention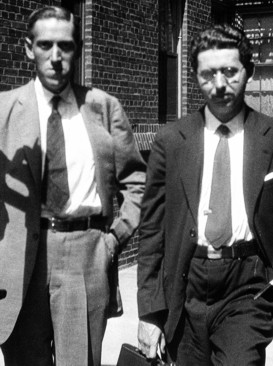 In a recent Silver Lodge podcast I listened to, British horror writer Ramsey Campbell mentioned that there was an online recording of panels at the first World Fantasy Convention held in Providence, Rhode Island in 1975 that included some members of the original "Lovecraft Circle" — those writers who were first influenced by, and in contact with, horror pulp writer H. P. Lovecraft (1890-1937) before he died.
I was immediately intrigued and attempted to track down this recording. In the Community Audio section of the Internet Archive, I found there were actually three separate MP3 tracks, composing two different panel discussions recorded at this inaugural World Fantasy Convention held in Lovecraft's honor.
The first was with some well-known fantasy & horror authors, concerning how they came to write fantasy and supernatural fiction. Moderated by cartoonist and editor Gahan Wilson, these authors included Joseph Payne Brennan, Manly Wade Wellman, and Lovecraft Circle members Robert Bloch and Frank Belknap Long. (As far as I know, Brennan and Wellman were not in contact with Lovecraft before he died.) One common thread was that Arkham House published all four of these authors.
The second and third files are from another panel discussion at the convention, this time about fantasy and supernatural horror publishing. Again moderated by Gahan Wilson, the speakers include publisher Donald A. Wollheim and author Robert Bloch.
According to the webpage,
The audio was recorded in October 1975 by and for Myrddin Press, which published the fanzine Myrddin. The recordings were made with a Sony monophonic cassette recorder, and parts of it appeared on a paper-thin flexible vinyl disc that came with the third issue of Myrddin. The three files uploaded here contain the clearest and most interesting portions from the tapes.
If you're interested in any of these individuals or their works, I highly recommend that you give these recordings a listen (total audio time just under 90 minutes). I'll mention a few tidbits from the panel discussions that I found very interesting and which I hope will peak your interest to attempt a listen yourself.
Concerning panel one (the first recording), I noted that the organization of convention panel discussions have not improved all that much in over 30 years: Wilson remarks that he was called upon at the last minute to moderate and more than one author comments how they hadn't really thought about the topic of the panel before coming to it. This is not to say that nothing interesting was said though!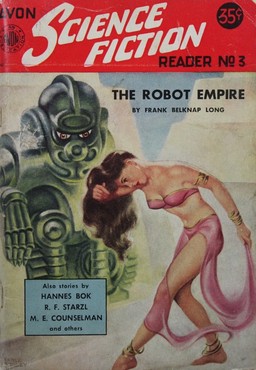 I found it incredibly fascinating that Brennan, Bloch and Long all commented that at least one reason they were fantasy writers, as opposed to science fiction writers, was that they did not have the technical background to write science fiction. Personally, my SF&F reading tends much more to the F than the SF; but I wasn't really under the impression that — at least today — one had to have a lot of technical know-how in order to write SF, that is, at least SF that sells. I may be mistaken about that. But it was clear that in the mid-1970s, these authors believed that one must have this sort of knowledge or background in order to competitively write in the SF market.
Robert Bloch's personality really shined on this panel. He was incredibly funny! One sample, in reference to his growing up in the United States in the 1930s:
"I was faced by a choice that everyone in the Great Depression faced: you either worked or starved. I decided to combine the two by becoming a writer." (laughter and applause)
Also, there's a rather heated exchange later during the Q&A between two members of the audience: a fan and a publisher. In the second or third recording, I think we're told the publisher was Lester del Rey. If so, he doesn't sound like the kind of guy you wanted to get into a kerfuffle with!
The second and third recordings are from another panel. This one focused upon the financial or business end of fantasy and horror publishing. This may sound boring to some. But if you're familiar with contemporary discussions on this subject (which are usually somewhat bleak), this panel will sound incredibly run-of-the mill. There was a lot of comment about poor sales, too many writers, lack of viable markets, worries about whether the genre would survive into the future — sound familiar?
There was also a somewhat (now) laughable discussion as to why paperbacks were then currently going up to $1.25 to $1.75 each. Oh the humanity!
I found Donald Wollheim to be a very level-headed guy, who seemed to know the genre book business inside and out. In addition, his love for the genre was also apparent. His wife, Elsie Wollheim, who is never introduced, makes a few comments from the audience that were very heartfelt about the industry.
Unfortunately, there are some "old boy club" sort of things that come out a few times in these recordings. For instance, at the very end of the third recording, after Mrs. Wollheim makes a comment praising her husband and DAW books, somebody says to Donald Wollheim (I think it may be Bloch) "That's a good wife there." I'm sure it was meant as a compliment; but to our modern ears it sounds condescending.
Anyways, if you're interested in a bit of the history of SF&F, I highly recommend you give these old recordings a listen.  They are found at: