Nine (mostly) Distinct (almost) Positive Traits of Chainmail Bikinis
Nine (mostly) Distinct (almost) Positive Traits of Chainmail Bikinis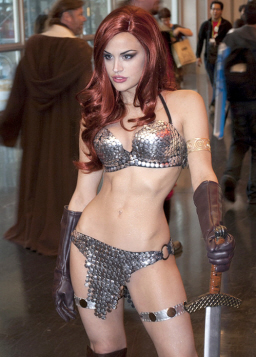 We've all heard about the downsides of the chainmail bikini.
Sure, sure, it'll get you pierced a thousand times over and you have to wax about every hour, but could it be that the chainmail bikini suffers from a bad rap? Could our prejudices be standing in the way of one of fantasy's greatest female armors? Should we just silence all the naysayers out there?
I think we should at least try, because I've yet to see a picture of Hawkeye in a chainmail bikini. (Internet, you've failed us all. And it's okay. Really.)
Here's a list of oft-overlooked awesome chainmail bikini traits, to help redirect the conversation in a more positive way.
Show off your abs – Female warriors work hard, too!  After all, even Conan had leather thongs to show off his almost-but-thankfully-not-everything everything.  (Wait, is that a good pro argument? Hang on. I can do better.)
No great maintenance costs – Paladins curse this one. While they have to get their armor to the smithy after every single random encounter (well, maybe every third or fifth, depending on skill level), the female bikini-clad woman can simply strut to the beach, confident that her armor was not damaged. Because if she'd taken a hit that could damage her armor, she'd be dead.

Quick movements – I think this is a thing.  Try it – avoid enemy blows in your underpants, and then re-enter the battle wearing regular clothing. Do you feel faster when you're mostly naked?  Or just chillier? Couldn't you just wear regular clothes in battle and be more comfortable? Will the People of Yoga release a combat gear line?  BUT, let's keep this positive. Of course it makes for faster movements.
Distracting the enemy – Especially when experiencing a chain mail malfunction.
Skin hue – No need to work on tan outside of questing hours.
Price point – Fairly inexpensive to replace, so every quest can have its own special chainmail bikini. Kind of like a new dress for every wedding.
Luggage space – Easy to pack several for long quests. While your party is trudging along in their same old tired armor, day in and day out, smelling of B.O. and what-the-heck-O, you'll be fresh as a daisy. Plus, you'll have a new item to discuss every day aside from the upcoming final battle. For example: "Why yes, I know the dragon can spit fire from its eyeballs, but have you not noticed how darling this pink-hued chainmail bikini looks on me?"
Availability – Generally available at most local smithy, general store, and kinky shop.
Fashion! – Easy to accessorize for maximum fashion benefit.
That's all I could come up with. But believe me, it was easy.  All I had to do was ignore practicality, comfort, decency, and reality.
No problem.
---
Marie Bilodeau is an award-winning science-fiction and fantasy author, as well as a professional performing storyteller. Check out her writings and find out what the heck a storyteller is at www.mariebilodeau.com.