New Treasures: Cold Copper by Devon Monk
New Treasures: Cold Copper by Devon Monk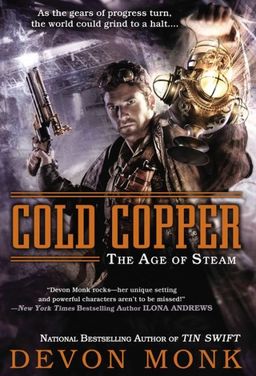 One of the best things about editing the print version of Black Gate was discovering great new writers.
Everyone who reads discovers new writers, of course. But I'm talking about finding major new talents while they're just getting started — still unpublished, or with just a handful of sales under their belts. Trust me, there's nothing like finding a story that really dazzles you, after long hours slogging through the submissions slush pile. The joy of discovery doesn't stop after you proudly showcase their work, either. No, you hold your breath, anxious to see what these incredibly talented writers will do next. Where their careers will take them and what wonders they'll accomplish.
That's what it was like to publish Devon Monk. I plucked her story, "Stichery," out of the submission pile in 2000 for Black Gate 2. It was hardly her first sale — she'd sold around a dozen previous stories, to places like Amazing Stories and Talebones — although her name was unfamiliar to me. But the story really impressed me and I knew immediately this was an author who was going places. Her career took off from there; "Stichery" was reprinted in David Hartwell's Year's Best Fantasy 2 and many more stories followed. The first novel in her 9-volume Allie Beckstrom urban fantasy series, Magic to the Bone, appeared in 2008, and in 2011 she kicked off a brand new series set in a steam age America where men, monsters, machines, and magic battle for supremacy: Age of Steam. It opened with Dead Iron; Tin Swift followed a year later, and now at last we have the third volume, Cold Copper.
Bounty hunter and lycanthrope Cedar Hunt vowed to track down all seven pieces of the Holder — a strange device capable of deadly destruction. And, accompanied by witch Mae Lindson and the capricious Madder brothers, he sets out to do just that. But the crew is forced to take refuge in the frontier town of Des Moines, Iowa, when a glacial storm stops them in their tracks. The town, under mayor Killian Vosbrough, is ruled with an iron fist — and plagued by the steely Strange, creatures that pour through the streets like the unshuttered wind.

But Cedar soon learns that Vosbrough is mining cold copper for the cataclysmic generators he's manufacturing deep beneath Des Moines, bringing the search for the Holder to a halt. Chipping through ice, snow, and bone-chilling bewitchment to expose a dangerous plot, Cedar must stop Vosbrough and his scheme to rule the land and sky….
Cold Copper was published by Roc Books on July 2. It is 400 pages, priced at $15 in trade paperback and $9.99 for the digital edition.