Last Chance to Win a Copy of Peter Watts' Echopraxia
Last Chance to Win a Copy of Peter Watts' Echopraxia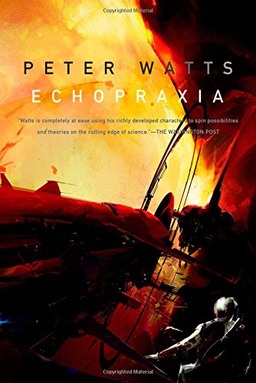 Last week, I told you that you had a chance to win a copy of Peter Watts's brand new novel Echopraxia, on sale this week from Tor Books.
How do you win? Just send an e-mail to john@blackgate.com with the title "Echopraxia" and a one-sentence review of your favorite Tor science fiction novel. One winner will be drawn at random from all qualifying entries and we'll publish the best reviews here on the Black Gate blog.
What could possibly be easier? But time is running out — the contest closes August 31.
All entries become the property of New Epoch Press. No purchase necessary. Must be 12 or older. Decisions of the judges (capricious as they may be) are final. Not valid where prohibited by law. Eat your vegetables. Thanks to the great folks at Tor for providing the prize.
This Peter Watts fellow is one of the most acclalimed young science fiction writers working today. The first novel in the Echopraxia series, Blindsight, was nominated for the Hugo Award, and in starred review Publishers Weekly called it "a terrifying and original spin on the familiar alien contact story." Watts has been called "a hard science fiction writer through and through, and one of the very best alive" by The Globe and Mail.
Read an excerpt from Echopraxia, and see the book trailer, here.
Echopraxia was published on August 26 by Tor Books. It is 384 pages, priced at $24.99 in hardcover and $12.99 for the digital edition.