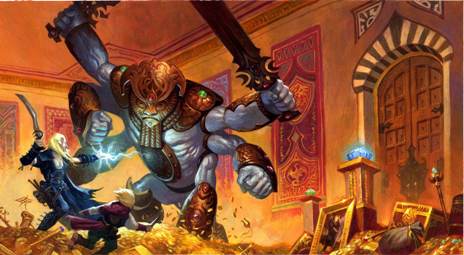 Art Evolution 2011 ends this month with our final artist of the year, but I have to say that once again it was a thrilling ride. Black Gate had the distinct pleasure of featuring the talents of Russ Nicholson, Janet Aulisio , Eva Widermann, and Chuck Lukacs this year and our final entry comes from the epic talents of Steve Prescott.
Now Steve has been doing this a long time, all the way back to the early days of White Wolf when an art director from the company visited his college campus and reviewed portfolios. For my part, I found Steve through Paizo's Pathfinder. I remember waiting with anticipation for each Pathfinder adventure path to arrive at my home as the company slowly rolled out Rise of the Runelords and Curse of the Crimson Throne.
Both of these six volume series helped set the stage for each of the Pathfinder Iconic characters which were all done by artist Wayne Reynolds. When the company's 3rd adventure path, A Second Darkness, began I was greeted with a cover credited once again to Wayne, but as I looked over the image I knew another artist had taken over the project with an incredible eye for detail.
Let's try to put this in perspective, however, because taking over Iconics from Wayne is like replacing Joe Montana at quarterback. Thankfully, like the 49ers of the early 90s, Paizo had their own version of Hall of Fame QB Steve Young with Steve Prescott.
---