Art Evolution 2011: Janet Aulisio
Art Evolution 2011: Janet Aulisio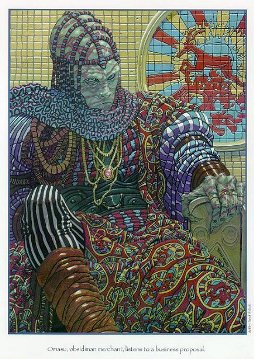 Art Evolution continues with the second entry into this exclusive club for 2011, but if you've missed any of the other contributors you can find them here.
I can't remember the first time I saw a Janet Aulisio piece of art, but I presume it was in the pages of FASA's Shadowrun RPG in 1992. Like most games of the era, interior work was done in black and white line art [although FASA was the first to include color plates which took the product to whole new levels of RPG design]. Janet, for her part, was tasked with adding a different level of art to the games 2nd Edition and her technique stood out in a style I like to refer to as 'art of the scratch'.
This is a kind of Russ Nicholson school of art, a concept where ink is used in every aspect of the picture, even the negative space. White is almost seen as an enemy, and Janet herself has said 'I'm like any other artist, greedy for lots of space to spread my art'.
Oddly, I was instantly taken with her style. I note this as 'odd' because to that point I'd been a kind of beauty purist, a clean image always more appealing to me than sketchy stuff. I can only guess that by 1992 my former 'teenage eye' was being replaced by something more accepting of a larger world of artistic style.
It is also interesting to me that this mental transition coincided with the RPG industry's swing back to acrylic, watercolor, and maker as the supremacy of TSR's 'Masters of Oil' were seen less as the standard and more as icons of a closing age.
That changing mindset was mirrored by the comic book boom of the early 90s, and I believe stylistically that the fantasy realism of the 80s was replaced with the more 'unreal' as a new age of artists rose to prominence in this period. Names like DiTerlizzi, Laubenstein, Nelson, Berry and even Brom showed us the absolute beauty of a flawed, dark, or bizarre form, and with this rising tide Janet Aulisio made her mark.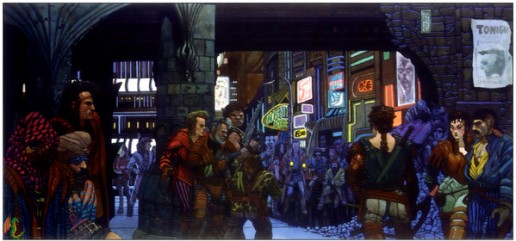 In comics, the big-lipped and almost scrunchy forms of Todd McFarlane ruled, his work a mirror to Laubenstein and Nelson, while the rise of Joe Madureira was akin to DiTerlizzi in a more Technicolor frame, and even the boxed style of John Romita Junior created a homage to the maker work of David Deitrick.
Still, Aulisio found a place unto herself, her style so unlike anything else found in the industry since the 70s making it all the more special. I found myself drawn to Aulisio's art like a moth to flame, the line work in Shadowrun only a precursor to the true color brilliance she displayed upon the launch of FASA's fantasy flagship Earthdawn.
When I initially started this project, Janet's name was batted around my list, but even as my contact list grew, she was nowhere to be found. All of her old Art Directors had at least a decade aged address or number, and even current work from Redbrick on their re-launch of Earthdawn was purchased through an art clearinghouse of old FASA stock.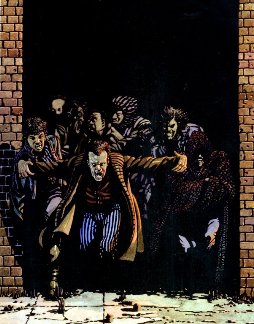 I finally resigned myself to the fact that Janet was gone, and my dream of including her was simply that, a dream. Still, I never gave up, and she was ever on my mind. Finally, after Illuxcon in November of 2010, I was put in contact with Patrick Wilshire who was one of the conventions organizers. Pat asked if there was any way he could help with Art Evolution, and I said, 'Well, I've been looking for Janet Aulisio for two years, you wouldn't have any idea how to reach her?' Pat laughed and replied that I couldn't ask an easy question. He did some digging, however, and found a random mention of her husband on a Linkedin page, but that was the best he could do.
Not wanting to waste this info, I joined Linkedin, got her husband's address, and sent out a package for Janet hoping it would find her. As this story has gone on long enough, I'll cut it short and say that through another five months of up and downs, phone calls and letters, Janet not only agreed to participate, but has been one of the most caring and social of all the artists I've had the pleasure to work with.
So, after all the above, and nearly a three year quest, I have the very dear pleasure of presenting Janet Aulisio's vision of Lyssa. I hope you enjoy it as much as I have.
---
Lyssa, by Janet Aulisio
Click image for larger version.
Inspiration came to Janet early with films such as The Thing, Siegfried, Village of the Damned, and The Time Machine lighting a fire in her creative mind. This transcended into painting, the work of Howard Pyle pushing her into the field of fantasy and science fiction art where she studied the craft at a private art school in New Jersey for two years.
She got her start in the gaming market with Game Designers Workshop in the mid 80s sharing science fiction pages with the likes of David Dietrick. It was this relationship with GDW that brought her to the attention of FASA as they moved from the space lanes of Battletech and Star Trek to the cyberpunk future of Shadowrun.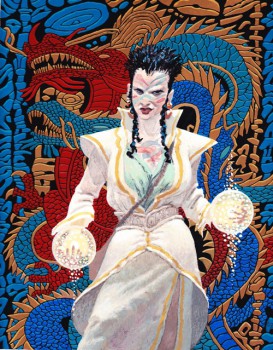 Janet's black and white sketches bore fruit in this dark future, and she brought forth an archetype for the baggy styles seen on the streets of the mid twenty-first century. Her work portrays thick fabric, hairy bodies, and women with hair that screams business on top and party in the back.
Her work on Shadowrun's 2nd Edition defined the system's reboot, and her color work gives an almost rhythmic club feel to any interaction within the pages. She creates characters, storylines, and a feeling of heat and shade that whispers of sex, drugs, and magic deep in the alleys of a hard-boiled subculture.
This work also provided a chance to move from science fiction to fantasy as FASA launched Earthdawn and although Janet was already doing limited work in color, her vibrant acrylics came to life as she explored the apocalyptic pre-history spun in this gaming system. I was here also that one of her most famous works, Obsidiman Merchant, came into being. With him we see all the emotion and depth Janet wields with her brush, the tiles behind him helping create a vision of detail that is definitive in everything she creates.
Like almost all her colleagues in the 90s she lent her talent to Magic the Gathering, and so the strength of her forms and landscapes evolved further within the halls of Wizards of the Coast.
To me, Janet has always been a pioneer for her gender like Liz Danforth before her. Unfairly, the RPG industry has never been as kind or supportive of female artists as their male counterparts, but Janet has never waivered, and her talent led her through the art director gauntlet until she is recognizable as one of the true masters of the RPG landscape.
This rendition of Lyssa displays all the earmarks of a true Aulisio masterpiece from her days in Shadowrun. Here we see the dark hair, long and raised atop her head with some length in the back. She's a hard one, her face almost begging the question, 'are you really sure you want some of this?' She carries the splash of body paint on her flesh, and the white and gold robes are crumpled with the reality of daily use. Still, perhaps the greatest point of clarity in the picture isn't even Lyssa herself, but instead the mosaic dragons that surround her. In these twisting serpents we see Janet's true gift, the page almost bursting with color, movement, and power as she places art inside art.
In the end, I couldn't be more pleased with what Janet brought to the table, and her place of enshrinement here in Art Evolution couldn't be more deserved. Thank you, Janet, for being you, and having the dedication and kindness to be a part of Art Evolution.