Art Evolution 1: Jeff Laubenstein
Art Evolution 1: Jeff Laubenstein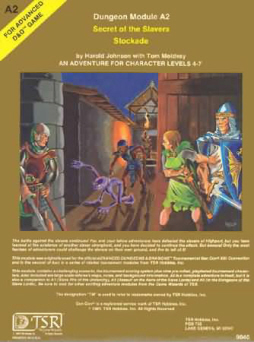 I'm a gamer, a lifer, someone who at the age of thirty-nine doesn't get to roll dice like it did at nineteen, but I still take a week's vacation every year to hang out with High School friends and revisit campaigns where characters have been on paper long enough to legally drink in the U.S.
My love for fantasy role-playing goes back to middle school. There, I was introduced to Dungeon's & Dragons, but it wasn't just the concept that inspired my love affair, it was the art. The first piece of fantasy role-playing art I ever saw was the module A2: Secrets of the Slavers Stockade.
I stared at it for a full hour in History class; flipped through the pages trying to figure out why the cover wasn't stapled on, and went home convinced this was something I had to get involved in.
Enter the Sears Christmas catalogue and TSR's D&D Basic Edition red boxed set. Once I saw Larry Elmore's red dragon and seemingly endless treasure trove, I convinced my mother to order it and began a journey lasting nearly thirty years.
I still buy gaming supplements for art alone, collecting entire genres and systems knowing full well I will never have the time to play them. If you put a great cover on it there's a good chance I'll buy, and I devour new talent almost as fast as I'll snap up a collector's piece from the seventies or eighties on eBay.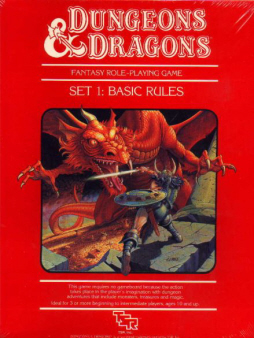 That's who I am, not an altogether interesting fanboy, but one that hasn't allowed the Peter Pan syndrome to fade.
Still, at some point in 2009 I struck on an idea that might solidify my love of fantasy art in a kind of crowning achievement to fandom. The following is the true story of my journey from ridiculous dream to unbelievable reality.
During that summer I started re-reading the novel series Thieves' World, and inside that first book Robert Asprin provides an editor's note concerning the books creation. To paraphrase the story, he was basically a struggling author at a convention in the late seventies and sat at a panel with several other unpublished writers discussing how cool it would be to get a bunch of famous writers together to create an incredible shared fantasy universe.
Long story short, Asprin went out and did it. Without really knowing how, he collected talent like Poul Anderson, Marion Zimmer Bradley, C.J. Cherryh, and dozens of others. A year later Thieves' World was born with him at the head.
That wonderful little vignette put me on a similar thought. What if I could go out and collect ten of the greatest fantasy role-playing artists for a single shared project? If I got them, why not have the project egotistically revolve around one of my own characters? Sure, it seemed ludicrous, but like the Cylons, I had a plan.
I went to my basement, sold off fifteen long-boxes of comics I hadn't touched in more than a decade and bankrolled a sample budget for my pet project.
Once my finances were in order, I sat down and created a list of all my favorite artists, those that had the biggest impact on my role-playing life. Yeah… there were a lot more than ten but I went with it.
As I put the list together I started to see a theme, a kind of catalog of time spanning thirty years. It began with the first color covers from TSR's early Greyhawk module series and ended with Paizo's Pathfinder RPG.
In all there were too many, but I forced a choice and came up with the names of nine men and one woman.
I took a breath and tried to imagine how this would work, what I would say, and how I would make contact with all the idols of my youth and beyond.
I considered the theme, dove deep into my extensive collection of role-playing characters and came up with a perfect fit for the project. A female wizard named Lyssa, who always wears white trimmed in gold and has raven-black hair. It was a simple enough description, just one line, and it gave the artists the power to create their own unique vision of her.
If they did Lyssa, I also decided they should create her in the genre that made them famous, like Larry Elmore doing Lyssa in the Dragonlance universe or Tony Diterlizzi in Planescape.
It helped to tell a story, follow the evolution of art, and from that seed I began building a portfolio concept I could sell to these artists.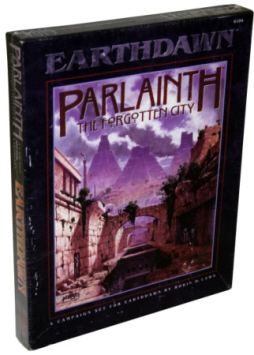 Luckily for me, the year before I launched this grand scheme I drove five hours to Virginia and wrangled Jeff Laubenstein's email from a director at Iron Crown Enterprises.
Jeff is hands down my favorite artist of all time, and I'd been working my way into an email relationship with him over the course of a year so I was confident I could get him onboard.
Jeff is an extremely personable guy, someone referred to in industry circles as an honest talent. He was the Art Director as FASA for almost a decade, and he'd seen the best and worst of what this industry can offer.
He cut his teeth on the Battletech universe, helped define character archtypes with his color work in Shadowrun, and launched Earthdawn as a testament to his vision of what a fantasy RPG should be. To me, he'd always been a great sounding board, and I was truly blessed to have him in my corner as I began.
One email exchange down and Jeff said he'd participate. He'd produce a Shadowrun 'Iconic' Lyssa, and the first of my dreams quickly became a reality.
---
Lyssa, by Jeff Laubenstein
Click image for larger version.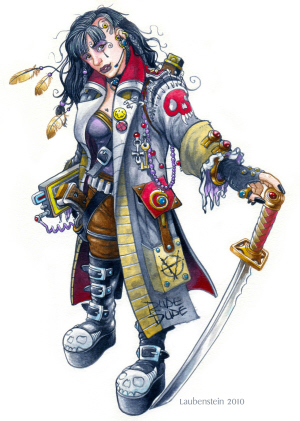 In 1989 FASA's Shadowrun was born, and with it, the genre of RP cyberpunk. This was a whole new world to explore and FASA turned to the up and coming talent of Jeff Laubenstein to bring it to market.
Jeff was a genius of crafting with watercolor. His early works in the mid eighties on Battletech helped enrich that war-torn universe, but it wasn't until we saw his concepts of a darker future that we truly understood his brilliance. This was a new age for the industry, and they turned their backs on oil paintings for new mediums and artists ready to set the stage.
Laubenstein's artwork bends to a kind of goblin-like mold and an almost surreal adoration of troll-kind. There is something innately unattractive in it, and yet when pressed to paper, it transforms into a creation that is altogether lovely. Jeff is the only artist I know that can make a wart look regal. In his landscapes, twisted trees and frumpy fellows become the norm, the resplendent, and the ultimate in achievement for the genre in question.
There is always a kinship driven deep in Laubenstein's work, a sense of companionship and purpose. He brings levity and a kind of natural merriment to each character.
Inside his images there are stories ready to be told as though inviting you to tap a keg and join in. His figures appear with a twinkle in their eye and Laubenstein vests each with a quality of the unreal. He throws back the chalice of truism to build on a culture of unloved comic outsider. He turned our heads back to the fun of it all, but with the passing of the Era another turn in the road spelled the doom of many upstart companies and the artists that made them both viable and relevant…
To see Art Evolution 2 click here,
Current Status: Jeff is still working in the RPG field as a freelance artist as well as being an illustrator on two Young Adult books. He can be reached at bigbluetiki@earthlink.net. You can also check out his gallery and have a chat with him at his fan page on Facebook here