On the Trail of Vanished Pulps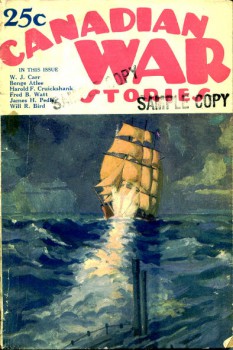 Collectors have at times in the past discussed the possibility that there may be some fiction magazines issues from the last 100 years for which no copies exist anywhere. Anyone who is disheartened by this news, might take comfort from the following tale which I thought some might enjoy and/or find interesting.
I maintain a sizable online index of fiction magazines at Galactic Central, and although I don't plan to start any serious work on the Adventure Fiction Index until 2012 (at least), I have spent a little time identifying where there are gaps in the data I have so as to maximise the time I had to fill the gaps.
Top of my list is Canadian War Stories for which, when I started, details were known only of 3 of the presumed 14 published issues – see here.
I knew of the existence of one other issue in "fannish" hands, but in five years had been unable to persuade the owner to send me the Table of Contents (ToC) for the index. As it happened, when I nudged him, he sent me the ToC by return – 4 down, 10 to go!
I put out pleas on the Fictionmags and PulpMags newsgroups, but nobody had any other issues, so the next step was to look at online library listings. No issues were listed for the British Library (or any other British academic library) or the Library of Congress, which wasn't surprising, but AMICUS (the catalogue of Canadian libraries) identified a single library (the Canadian War Museum) which had a single issue, but it was one I was missing and they kindly sent me the ToC free of charge (they would charge me $15 for a scan or mail me a photocopy free – go figure) – 5 down, 9 to go!
Next up was Google.