Dinosaurs, Mermaids, and Haunted Lumber: The Best of L. Sprague De Camp
Dinosaurs, Mermaids, and Haunted Lumber: The Best of L. Sprague De Camp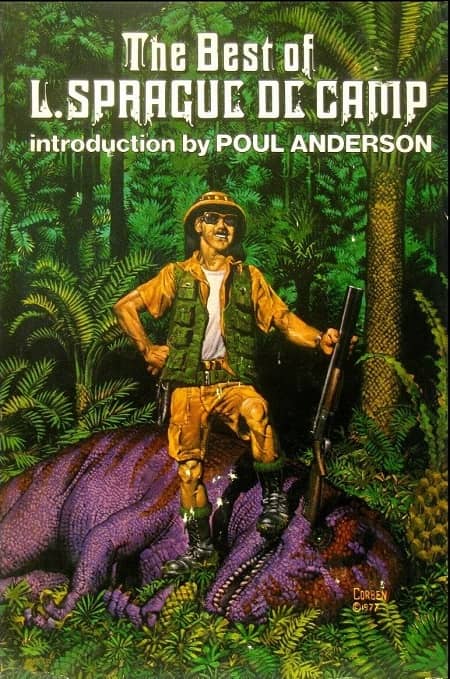 The Best of L. Sprague de Camp
(Science Fiction Book Club edition, 1978. Cover by Richard Corben)
The Best of L. Sprague De Camp (1978) was the fifteenth installment in Lester Del Rey's Classic Science Fiction Series. Poul Anderson (1926–2001) gives the introduction. Darrel Sweet (1934–2011) does his second cover of the series, the first being The Best of Cordwainer Smith. L. Sprague De Camp (1907–2000), still living at the time, wrote the afterword.
I'm a fairly late-comer to science fiction. I grew up with Star Wars and typical sci-fi shows and movies of the late 70s and 80s, but my reading picks tended to be more towards fantasy and horror. So, like many of these classic sci-fi authors in the Del Rey series, L. Sprague De Camp was a new name to me. And it's interesting, I think, how one can come to a new writer.
In all honesty, I was not looking forward to reading this volume. Most of what I've read of and about De Camp hasn't given me the most favorable impression. Case in point: A couple of years ago I compared De Camp's Robert E. Howard (REH) biography with Mark Finn's. If you know anything about De Camp's reputation among many REH fans, you'll know that it is usually less than favorable (again, see my earlier post for more details). And, after reading De Camp's REH bio, I came around to agreeing with some of this critical press. In short, I thought that De Camp could often come off as conceited with his overly bold claims, especially given his tendency of providing insufficient evidence — or none at all!
But after reading The Best of L. Sprague De Camp, I have to say that despite his reputation with many an REH fan, this has become one of my favorite volumes in the Del Rey series. I found De Camp to be a very fascinating writer. Two things, I think, really stand out in his science fiction writing.
[Click the images for dinosaur-sized versions.]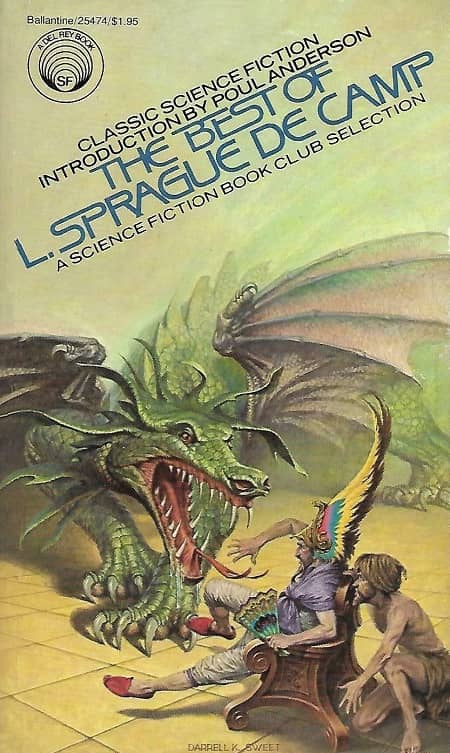 The Best of L. Sprague de Camp
(Del Rey paperback edition, 1978. Cover by Darrell Sweet)
One, De Camp can be very funny. Many of his stories can be kind of zany setups for slapstick. "Nothing in the Rules" is about a women's swim meet where one of the coaches enters a mermaid against the other swim teams. Since the judges see "nothing in the rules" against entering a mermaid, they allow it. Given this argument from silence, one of the competing coaches enters a sea lion, and all kinds of other hilarity ensues.
"The Hardwood Pile" is about a haunted pile of lumber. Not scary, but funny. It turns out that the pile of wood was from a tree inhabited by a sphendamniad — a sort of tree fairy — who is more than a little miffed that people keep taking her home and trying to destroy or sell it.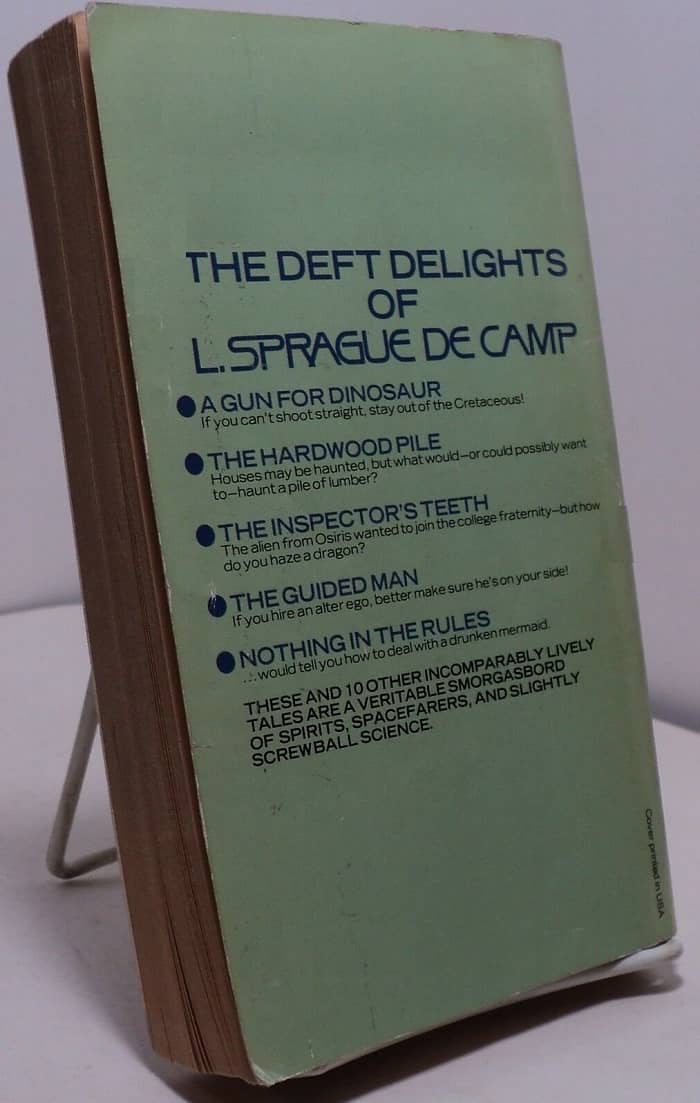 "The Guided Man" is about a service that has a proprietary technology that allows the seemingly inept to have their bodies taken over remotely by experts who easily steer them through awkward or difficult situations. One of the "guides," named Falck, falls in love with the love interest of one of his customers (Ovid Ross). A pretty hilarious scene evolves when Falck crosses the wires of his guiding machine with another guide who is supposed to be helping a ballet dancer, while Ovid Ross is at a trade show. The result:
Ovid Ross took off in a tremendous leap from the stage and began bounding around the showroom, leaping high into the air to kick his heels together and fling his arms about. Ross, imprisoned in his skull, was as astonished as anyone. He thought Falck must have gone mad. (p. 242).
In the introduction, Poul Anderson takes issue with those who wish to describe De Camp's stories as "wacky." Anderson claims they are rather the "meticulously detailed working out of the consequences of a bizarre assumption" (p. xii). Good description, but that also seems like a good definition of "wacky" to me. At any rate, I found many of De Camp's stories downright funny.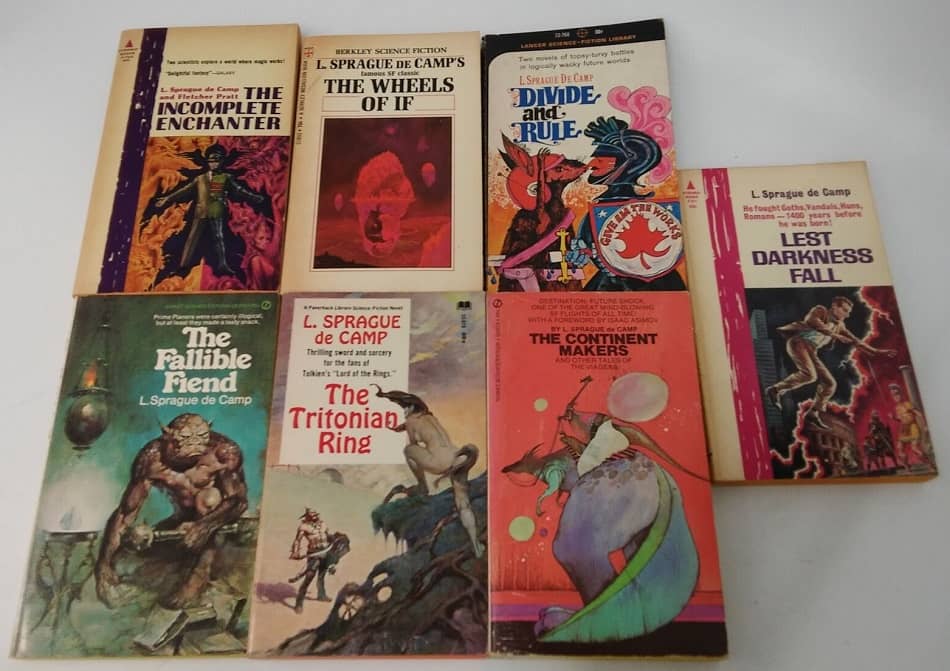 Some of de Camp's 20th Century paperbacks
De Camp's humor often comes out in funny one-liners as well. One example, a character named Staples is considering a dangerous animal in a story:
Staples knew that the animal could run circles around him on level ground, and moreover that if he caught him he wouldn't be satisfied to run circles around him. (p. 75)
Besides his humor though, another thing that really stuck out to me about De Camp was his variety of stories. In fact, I would say that De Camp has a wider variety of stories and styles than any other volume that I've read thus far in this Del Rey Classic Science Fiction Series.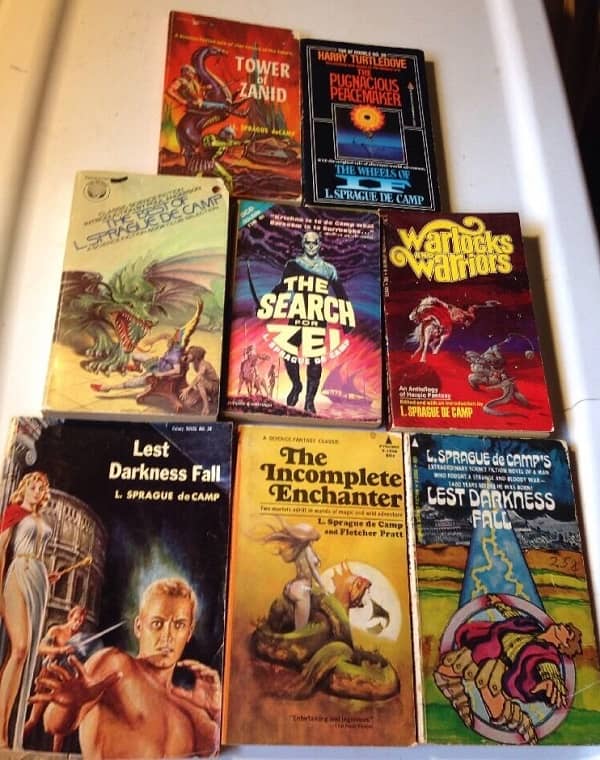 This volume not only gives examples of De Camp as a science fiction and fantasy writer, his "Language for Time Travelers" is also an essay on language change over time, a bit of philology. Something worth considering if you're planning on writing a science fiction story set in the future. I don't know anything about linguistics but I found De Camp's essay interesting and plausible. One of my older friends actually met De Camp at a con back in the 70s and found him to be very intelligent and interesting. I think this essay does a good job of showing that.
But The Best of L. Sprague De Camp also displays other variety. "Judgment Day" was a very dark, fictional autobiography of a scientist who has either become part of building atomic weapons or something similar. It's a depressing introspective tale about an individual with a very gloomy childhood who grows up being bitter and vindictive. De Camp says in the afterword that it is only slightly about himself, but I found myself drawn into the exploration of this dark consciousness.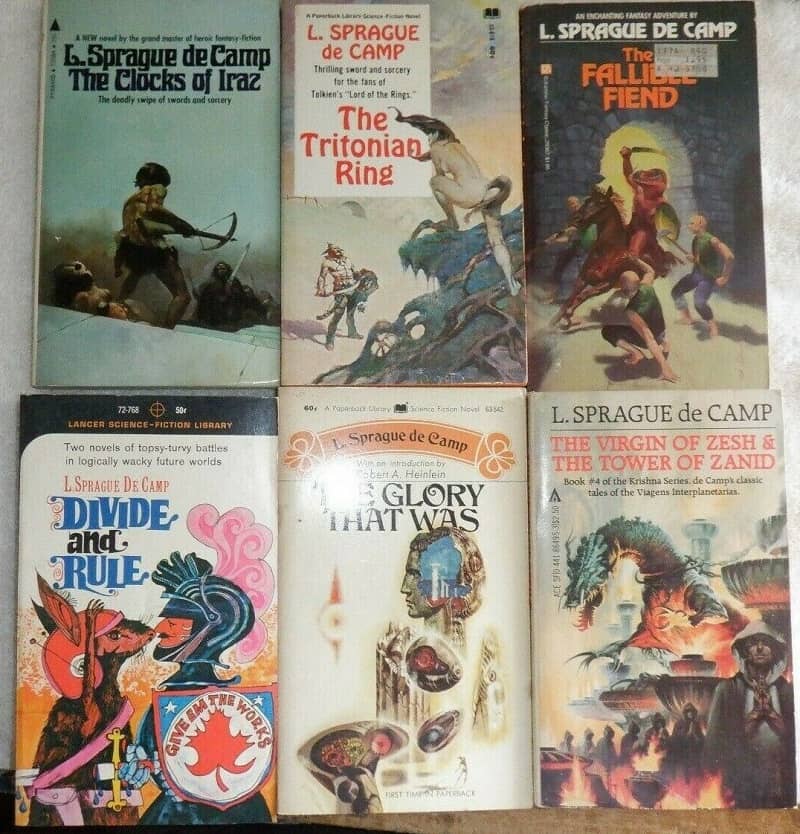 So L. Sprague De Camp, love him or hate him, I don't think it can be denied that he was a very gifted writer in the sci-fi and fantasy field, one whose storytelling skills exhibited great humor, variety and also flair. De Camp was not your typical pulp writer — at least not compared to the other authors in this Del Rey series — and this volume has encouraged me more than any other in the series to seek out the author's work.
Here's the complete Table of Contents for The Best of L. Sprague De Camp.
L. Sprague De Camp—Engineer and Sorcerer, by Poul Anderson
"Hyperpilosity" (Astounding Science Fiction, April 1938)
"Language for Time Travelers" (Astounding Science Fiction, July 1938)
"The Command" (Astounding Science Fiction, October 1938)
"The Merman" (Astounding Science Fiction, December 1938)
"Employment" (Astounding Science Fiction, May 1939)
"The Gnarly Man" (Unknown, June 1939)
"Nothing in the Rules" (Unknown, July 1939)
"The Hardwood Pile" (Unknown, September 1940)
"The Reluctant Shaman" (Thrilling Wonder Stories, April 1947)
"The Inspector's Teeth" (Astounding Science Fiction, April 1950)
"The Guided Man" (Startling Stories, October 1952)
"Judgment Day" (Astounding Science Fiction, August 1955)
"A Gun for Dinosaur" (Galaxy Science Fiction, March 1956)
"Reward of Virtue" (The Magazine of Fantasy and Science Fiction, 1970)
"The Emperor's Fan" (Astounding: John W. Campbell Memorial Anthology, 1973)
"The Ameba" (Yandro, December 1973)
"The Little Green Men" (Fantasy Crossroads #7, February 1976)
"Two Yards of Dragon" (Flashing Swords #3, ed. by Lin Carter, 1978)
Afterword by L. Sprague De Camp
Our previous articles on L. Sprague de Camp include:
L. Sprague de Camp, Fletcher Pratt, Gardner Fox and Appendix N: Advanced Readings in D&D
Vintage Treasures: The Spell of Seven, edited by L. Sprague de Camp
Vintage Treasures: Ring Around the Sun by Clifford D. Simak / Cosmic Manhunt by L. Sprague de Camp
Vintage Treasures: Tales From Gavagan's Bar by L. Sprague de Camp and Fletcher Pratt
Vintage Treasures: The Compleat Enchanter by L. Sprague de Camp and Fletcher Pratt
The Ballantine Adult Fantasy Series: Land of Unreason by Fletcher Pratt and L. Sprague de Camp by Keith West
The Barbarism of Bullfighting and Archaic Diction in L. Sprague de Camp's "The Rug and the Bull" by Gabe Dybing
Swords & Sorcery edited by L. Sprague De Camp by Fletcher Vredenburgh
Logical Swords & Sorcery: The Tritonian Ring by L. Sprague de Camp by Fletcher Vredenburgh
Hubert Rogers' Astounding Covers — And His Fascinating Correspondence with Robert A. Heinlein and L. Sprague de Camp by Doug Ellis
The Great Pulp Gathering: That Time Jack Williamson, L. Sprague de Camp, Frank Belknap Long, Edmond Hamilton, John W. Campbell, Manly Wade Wellman, Otis Adelbert Kline and others met at Mort Weisinger's House in 1937 by Doug Ellis
Birthday Reviews: L. Sprague de Camp's "The Figurine" by Steven H Silver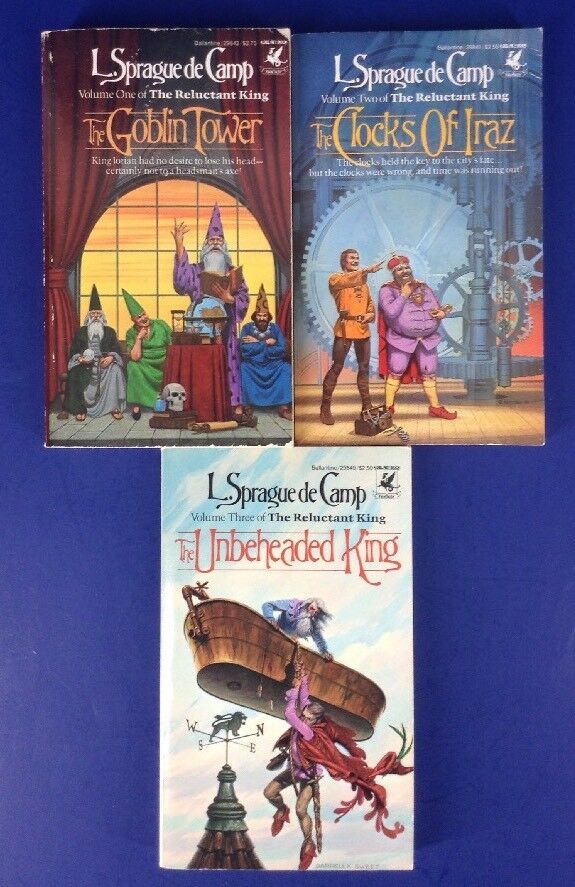 The Reluctant King series
And our previous coverage of the Classics of Science Fiction line includes (in order of publication):
Smugglers, Alien Vampires, and Dark Dimensions: The Best of C. L. Moore by James McGlothlin
Rich Playboys, Mad Scientists, and Venusian Monsters: The Best of Stanley Weinbaum by James McGlothlin
Vampires, Frozen Worlds, and Gambling With the Devil: The Best of Fritz Leiber by James McGlothlin
Space Colonies, Interstellar Fleets, and The Martian in the Attic: The Best of Frederik Pohl by James McGlothlin
A Neglected Master: The Best of Henry Kuttner by James McGlothlin
A Shaper of Myths: The Best of Cordwainer Smith by James McGlothlin
Wings, Wind, and World-Wreckers: The Best of Edmond Hamilton by Ryan Harvey
Shark Ships and Marching Morons: The Best of C. M. Kornbluth by James McGlothlin
Drawing Out What it Truly Means to be Human: The Best of Philip K. Dick by James McGlothlin
Wit and Play in Classic Science Fiction: The Best of Fredric Brown by James McGlothlin
Dead Cities, Space Outlaws, and Planet Gods: The Best of Leigh Brackett by Ryan Harvey
Gods, Robots, and Man: The Best of Lester del Rey by Jason McGregor
From the Pen of a Great Pulpster: The Best of Robert Bloch by James McGlothlin
Germ Warfare, Sentient Planets, and Dark Age Alchemy: The Best of Murray Leinster by James McGlothlin
Davey Jones, Alien Spores, and Riding on a Comet: The Best of Raymond Z. Gallun by James McGlothlin
See all of our recent Vintage Treasures here.