Smugglers, Alien Vampires, and Dark Dimensions: The Best of C. L. Moore
Smugglers, Alien Vampires, and Dark Dimensions: The Best of C. L. Moore
The Best of C. L. Moore (1976) was the sixth installment in Del Rey's Classic Science Fiction Series. After taking a break from the fifth installment to let J. J. Pierce edit, Lester Del Rey (1915–1993) returned to edit and give an introduction to this volume.
You may recall that Dean Ellis (1920–2009) did the cover art for the first four installments in the series with Darrell Sweet handling the fifth, though still in the style of Ellis. But the fabulous cover art of The Best of C. L. Moore was done by "The Brothers Hildebrandt" (twin brothers Greg [1939–] and Tim [1939–2006]) and represents something of a departure from the artistic precedence of Ellis and Sweet. It's a portrait of the main character in Moore's story, "No Woman Born."
Catherine Lucille Moore (1911–1987) was one of the greatest science fiction and fantasy writers of the Twentieth Century. Writing under the name C. L. Moore, she was one of the first truly successful women writers in genre fiction, gracing the early pages of Weird Tales and Astounding Stories. She was also was famously married to another well-known sci-fi writer, Henry Kuttner (1915–1958), whom she collaborated with on many stories. However, all but two of the tales in The Best of C. L. Moore were written before her time with Kuttner. As with the previous books published while the featured author was still alive, Moore has a small afterword at the end.
[Click the images for bigger versions.]
Before I read this volume, I was really only familiar with Moore through her oft-anthologized story "Black God's Kiss," which is included here. I was expecting more of the same enjoyable writing, and I was not disappointed. Moore is clearly a master, and in many ways a much more subtle writer than the typical sci-fi writers of her time. I found her to be very nuanced, focusing more on character and innuendo than action or dialogue. These factors make The Best of C. L. Moore an excellent collection of stories. I will focus on just a couple that really stuck out for me.
The first story, "Shambleau," was evidently something of a blockbuster back in 1933, and at the time seemingly came out of nowhere. Lester Del Rey recounts in the introduction the anticipation of the audience at a later World Science Fiction Convention banquet, which captures the effect that story had on the field:
I sat in the audience… listening to Forrest J. Ackerman announce a special award that was about to be presented to a writer. As is customary, Ackerman was saving the name of the recipient for the climax. But he mentioned a story called "Shambleau" and never got to finish his speech. As one, the 2,000 people in the audience came instantly to their feet in unanimous tribute — clapping, shouting, and craning to see [C. L. Moore].

Many in that audience had never read the story. But everyone knew about it. And everyone knew that Catherine Moore was one of the finest writers of all time in the field of science fiction.

It is probably impossible to explain to modern readers how great an impact that first C. L. Moore story had. Science fiction has learned a great deal from her many examples. But if you could go back to the old science-fiction magazines of the time and read a few issues, and then turn to "Shambleau" for the first time, you might begin to understand. (ix–x).
Being a modern reader, I probably can't truly appreciate the point Del Rey is making here. But "Shambleau" is a truly engaging story set in a futuristic time about a swashbuckling adventurer (think Han Solo) who rescues a beautiful alien girl from a mob.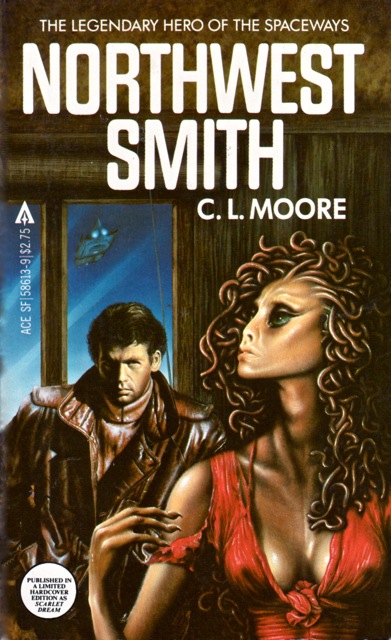 Northwest Smith and Shambleau (art by Jim Burns)
Throughout many of her stories, Moore does an exceptional job of describing the beauty of women, much better than many male writers. Thus, Moore makes it clear why the protagonist in "Shambleau" is drawn to this alien "witch." But he gets more than he bargained when he saves her, and eventually realizes the mob may have been right in their attempt to lynch this alien woman. The ending reminded me of H. P. Lovecraft.
My favorite C. L. Moore story though, both before and after reading The Best of C. L. Moore, was easily "Black God's Kiss." This is one of those tales that fits squarely into what we recognize today as Sword and Sorcery. It introduces Jirel of Joiry, a sword-wielding female knight. Jirel is a recurring character in many of Moore's stories, although this is the only one I'm familiar with. Here Jirel is taken captive by a conquering knight and she seeks a weapon to bring vengeance against this conqueror. The weapon she seeks exists in a hellish world of some other dimension. But her burning need for revenge outweighs the fear she should probably have in seeking to fulfill this quest.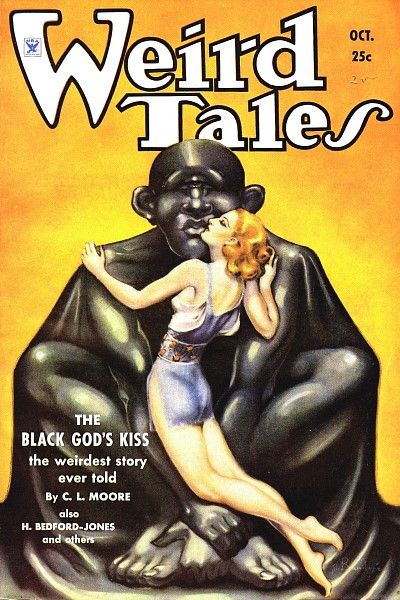 Art by Margaret Brundage
As with "Shambleau," "Black God's Kiss" is also very effective in presenting horrific elements. And as with "Shambleau," Moore's description of this world and its demonic denizens reminded me very much of Lovecraft. But Moore is very effective in combining horror with fantasy, and "Black God's Kiss" never feels like it leaves the realm of Sword and Sorcery. An excellent, excellent story! I cannot expound enough on it. I especially like the poignant regret Jirel seems to hold at the end.
The Best of C. L. Moore is filled with other gems as well, though. "Fruit of Knowledge" is a retelling of the biblical story of Adam and Eve, along with the medieval Jewish myth of Lilith. This was very interesting and different sort of tale — not the kind of thing you'd normally expect in a fantasy or sci-fi anthology.
I also really enjoyed "Vintage Season," about time-travelers who arrive at famous historical events just before they happen. The focus upon characterization and the subtle interaction between characters is very good — something that truly shines in Moore's writing. I think this is what Del Rey was referring to in claiming that Moore was really different from most of the sci-fi writers that preceded her.
One caution, though. Moore's stories are rarely, as a rule, harum-scarum wild rides of action and excitement. She is a patient and methodical writer. I say this because I've recently been reading a lot of Robert E. Howard, who is very fast-paced. When I turned to C. L. Moore, I often found myself growing impatient with the amount of time she spent developing characters and various small details. It took me a little while to slow down and enjoy Moore. But once I did, I found this volume to be a splendid collection of fabulous stories.
The Best of C. L. Moore is a great volume of classic sci-fi and fantasy stories from one of the twentieth-century's greatest masters. I highly recommend it.
Here's the complete Table of Contents:
"Forty Years of C. L. Moore," introduction by Lester del Rey
"Shambleau" (Weird Tales, 1933)
"Black Thirst" (Weird Tales, 1934)
"The Bright Illusion" (Astounding Stories, 1934)
"Black God's Kiss" (Weird Tales, 1934)
"Tryst in Time" (Astounding Stories, 1936)
"Greater Than Gods" (Astounding Stories, 1939)
"Fruit of Knowledge" (Unknown, 1940)
"No Woman Born" (Astounding Science Fiction, 1944)
"Daemon" (Famous Fantastic Mysteries, 1946)
"Vintage Season" (Astounding Science Fiction, 1946)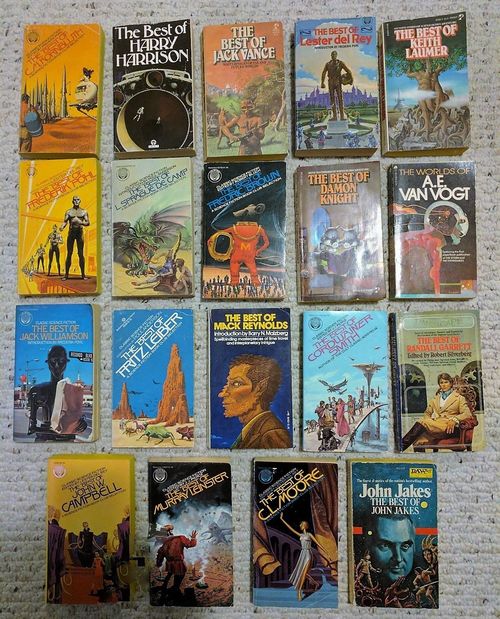 A few Best of Collections from the 70s-80s
Our previous coverage of the Classics of Science Fiction line includes (in order of publication):
See all of our recent Vintage Treasures here.