Clockwork Gunslingers, Soul-Sucking Ghosts, and Vampire Cowboys: Straight Outta Tombstone, edited by David Boop
Clockwork Gunslingers, Soul-Sucking Ghosts, and Vampire Cowboys: Straight Outta Tombstone, edited by David Boop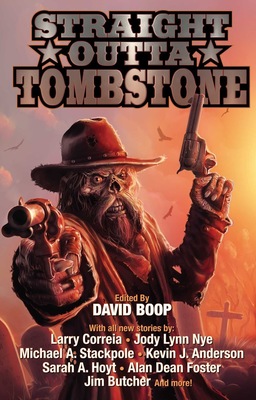 Now I know you love a good Weird Western. And you've probably noticed, as I have, that there's been a dearth of them recently.
But fret not… David Boop's anthology Straight Outta Tombstone — with brand new stories by Jim Butcher, Alan Dean Foster, Robert E. Vardeman, Phil Foglio, Michael A. Stackpole, and others — arrives next month to set things right. Here's Boop from his Foreword.
Collected here are stories from my idols, my mentors, my peers and my friends. When I sent out invitations, I asked each author to give me their favorite and/or most famous characters in all-new stories set in the Old West. They did not disappoint.

From Warden Luccio to Bubba Shackleford, they came. We get a visit from Mad Amos, and Dan Shamble shambles by. A barmaid lives up to her name "Trouble," and a dragon named Pete wants to court the sacrificial girl, not kill her. Chance Corrigan, Hummingbird and Inazuma, Bose Roberds. Never before have these characters shared the stage like this. Cowboys and Dinosaurs. Adventurers and Aliens. Time-Traveling Bar Maids and Clockwork Gunslingers. Vampires. Zombies. They're all in here…

Do you remember the Wild, Wild West TV series? Maybe you read Jonah Hex, the Two-Gun Kid or other cowboy comics. Did you, like me, watch old B-movies and serials such as Valley of the Gwangi and The Phantom Empire on Saturday afternoon TV? How many of you snuck to the living room once your parents were asleep to see Billy the Kid Versus Dracula during a late-night movie monster marathon on Halloween? I certainly did.
Sounds just like what the ole doc ordered.
Here's the complete Table of Contents.
"Bubba Shackleford's Professional Monster Killers" by Larry Correia
"Trouble in an Hourglass" by Jody Lynn Nye
"The Buffalo Hunters" by Sam Knight
"The Sixth World" by Robert E. Vardeman
"Easy Money" by Phil Foglio
"The Wicked Wild" by Nicole Givens Kurtz
"Chance Corrigan and the Lord of the Underworld" by Michael A. Stackpole
"The Greatest Guns in the Galaxy" by Bryan Thomas Schmidt & Ken Scholes
"Dance of Bones" by Maurice Broaddus
"Dry Gulch Dragon" by Sarah A. Hoyt
"The Treefold Problem" by Alan Dean Foster
"Fountains of Blood" by David Lee Summers
"High Midnight" by Kevin J. Anderson
"Coyote" by Naomi Brett Rourke
"The Key" by Peter J. Wacks
"A Fistful of Warlocks" by Jim Butcher
And here's the book description.
Come visit the Old West, the land where gang initiations, ride-by shootings and territory disputes got their start. But these tales aren't the ones your grandpappy spun around a campfire, unless he spoke of soul-sucking ghosts, steam-powered demons and wayward aliens.

Here then are seventeen stories that breathe new life in the Old West. Among them: Larry Correia explores the roots of his best-selling Monster Hunter International series in "Bubba Shackleford's Professional Monster Killers." Jim Butcher reveals the origin of one of the Dresden Files' most popular characters in "Fistful of Warlock." And Kevin J. Anderson's Dan Shamble, Zombie P.I., finds himself in a showdown in "High Midnight." Plus stories from Alan Dean Foster, Sarah A. Hoyt, Jody Lynn Nye, Michael A. Stackpole, and many more.

This is a new Old West and you'll be lucky to get outta town alive!
Straight Outta Tombstone will be published by Baen Books on July 4, 2017. It is 272 pages, priced at $16 in trade paperback and $8.99 in digital formats. The cover is by Dominic Harman.
Read Boop's Foreword, and sample stories from the first half of the book, at the Bean website.
See all our coverage of the best upcoming fantasy here.