Classic SF from One of the Twentieth Century's Great Masters: The Best of John W. Campbell
Classic SF from One of the Twentieth Century's Great Masters: The Best of John W. Campbell
The Best of John W. Campbell (1976) was the seventh installment in Del Rey's Classic Science Fiction Series. Lester Del Rey (1915–1993) is again the editor; he also provides the introduction. H. R. Van Dongen (1920–2010) did the attractive cover art, and it seems in line with the artistic feel set by Dean Ellis, Darrell Sweet, and The Brothers Hildebrandt on the previous volumes. For those books, unless the author was deceased, the afterword was usually written by the author being celebrated. Since Campbell had passed a few years before this publication, his widow (also now deceased) provided an interesting afterword.
John W. Campbell (1910–1971) was more than just one of the greatest science fiction writers of the twentieth century. Probably more importantly, as editor of Astounding Science Fiction (later renamed Analog) from 1937 until his death, he is generally credited with being the primary shaper of the Golden Age of science fiction. He tutored such giants in the field as A. E. van Vogt, Theodore Sturgeon, and the great Robert A. Heinlein. And everyone from Isaac Asimov to Robert Silverberg credited him with being a major influence on their writing.
As I've said before, I'm not generally a big fan of science fiction; I tend to lean more towards horror and fantasy. And thus I know I tend to caricature classic sci-fi as being sometimes tedious and outmoded. But as with some previous writers in Del Rey's Classic Science Fiction Series, I continue to be pleasantly surprised by some of these Golden Age (and later) science fiction writers. Since we've covered this volume once before (back in 2013), this time, rather than simply giving an overview of selected stories, I will primarily focus on some recurring themes and give some overall thoughts.
[Click the images for bigger versions.]
1976 Sphere UK edition of The Best of John W. Campbell.
Note the intro by James Blish, and the different TOC. Cover by Chris Foss
As one of the grand designers of the Golden Age of science fiction, it's unsurprising that Campbell's stories tended to center on what we think of today as typical sci-fi tropes, like spaceships and aliens. But, it seems to me, Campbell was particularly interested in exploring realistic scientific ideas. In fact, he often had the annoying habit of having characters lapse into physicist, chemist or engineer teaching moments, such as the following typical bit:
The only light was the blue-green glow of the mercury-vapor arcs. The light of mercury is rich in high-energy quanta, which stimulate the alkali metal atoms to photoelectric activity. Or perhaps that is beyond the science of your day? ["Twilight," p. 28]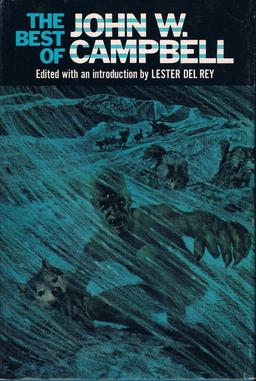 Thank you Bill Nye. But though Campbell liked to dwell on such things from time to time, overall he struck me as a "big picture" writer, philosophically focused on big technological and scientific ideas and their ramifications. It seems to me that Campbell was not necessarily interested in scientific ideas for their own sake, but exploring them was simply a good way of bringing to the fore whatever deeper issue intrigued him.
I think a lot of Campbell's stories can be characterized as addressing the nature of human beings, which he highlights by contrasting human relationships with technology, or evolution, or sometimes with aliens as a stand-in for technology or evolution. Campbell seemed to enjoy exploring the consequences of super-technological, or super-advanced, ideas and their effects, especially on human beings.
But interestingly the conclusions he often came to in his stories were often mixed.
I say "interestingly" because it's clear that he was very pro-science; science and progress are good things for Campbell. So it's surprising that he also expressed caution about science as well.
For example, in "The Invaders" Campbell is ambiguous, or at least skeptical about what counts as a flourishing civilization in relation to eugenics. He seems to present eugenics in a positive light, but then pulls back at the end. In many of his stories aliens, machines, or some ubiquitous "Machine" help to bring about prosperity, peace, and long life. But the perfections he portrays in these phases of human evolution are strangely unattractive. For example, he often sees humans in the future as having no need or desire for sex, and usually work is superfluous as well. Sound boring? I think Campbell thought so too. Eventually this phase usually peters out in his stories, and the machines or more "advanced" humans realize that humanity must return to some earlier stage of existence.
These sorts of thought experiments are quite interesting and make for some good discussion starters on the nature of humanity (specifically what counts as a flourishing civilization), the idea of "progress," and the idea of science being "beneficial."
However, I don't mean to paint Campbell as simply a philosophical writer. He also wrote darn good stories.
Who Goes There? and Other Stories, 1955 Dell paperback. Cover by Richard Powers
There's one in particular I have to focus on — a true classic. Before reading this volume, I was only familiar with Campbell's well-known tale "Who Goes There?" famously made into the Howard Hawks' movie The Thing from Another World (1951) and then remade by John Carpenter as The Thing (1982). This latter version I've seen literally dozens of times.
"Who Goes There?" still occasionally pops up in horror anthologies today. But after having read The Best of John W. Campbell, I can definitely say it is not a typical Campbell story. It has a more taut plot and building action than any other tale in this volume. And "Who Goes There?" is the best example, by far, of a paranoia-inducing read I can think of from any author. It had been awhile since I'd read it, and had forgotten how closely Carpenter's version of the movie followed the source material. The mood is quite palpable, and "Who Goes There?" deserves to be remembered as one of the best horror short stories of the earliest Twentieth Century, and it's a worthy inclusion here.
As with most Golden Age writers, Campbell has his share of critics, both justified and unjustified. (See Darrell Schweitzer's recent rant from a couple of years ago here at Black Gate.) But I thought The Best of John W. Campbell was an excellent volume of classic sci-fi stories from one of the twentieth-century's great masters. I recommend it.
Here's the complete Table of Contents:
Introduction: The Three Careers of John W. Campbell by Lester del Rey
"The Last Evolution" (Amazing Stories, August 1932)
"Twilight" (Astounding Stories, November 1934)
"The Machine" (Astounding Stories, February 1935)
"The Invaders" (Astounding Stories, June 1935)
"Rebellion" (Astounding Stories, August 1935)
"Blindness" (Astounding Stories, March 1935)
"Elimination" (Astounding Stories, May 1936)
"Forgetfulness" (Astounding Stories, June 1937)
"Out of Night" (Astounding Stories, October 1937)
"Cloak of Aesir" (Astounding Science Fiction, March 1939)
"Who Goes There?" (Astounding Science Fiction, August 1938)
"Space for Industry" (Analog editorial, April 1960)
Afterword: Postscriptum by Mrs. John W. Campbell
Note that the Sphere (UK) edition of The Best of John W. Campbell (above) is a very different book. It was published by Sidgwick & Jackson in 1973, and reprinted in paperback in 1976 with a Chris Foss cover. It has an intro by James Blish (rather than del Rey), and a very different TOC.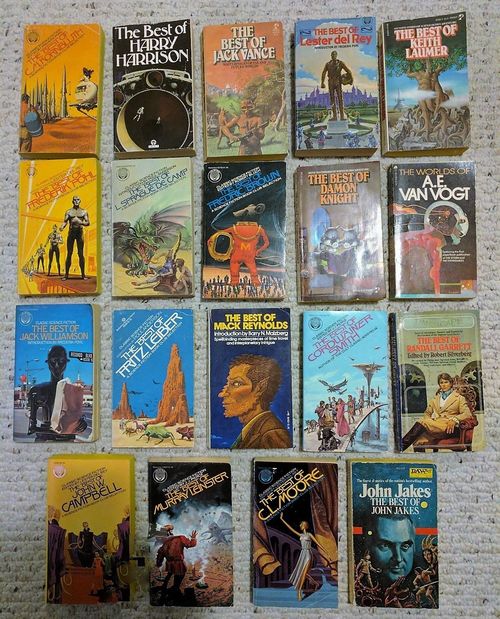 A few Classics of Science Fiction and other
Best of collections from the 70s-80s
Our previous coverage of the Classics of Science Fiction line includes (in order of publication):
Rich Playboys, Mad Scientists, and Venusian Monsters: The Best of Stanley Weinbaum by James McGlothlin
Vampires, Frozen Worlds, and Gambling With the Devil: The Best of Fritz Leiber by James McGlothlin
Space Colonies, Interstellar Fleets, and The Martian in the Attic: The Best of Frederik Pohl by James McGlothlin
A Neglected Master: The Best of Henry Kuttner by James McGlothlin
The Best of Henry Kuttner
A Shaper of Myths: The Best of Cordwainer Smith by James McGlothlin
Smugglers, Alien Vampires, and Dark Dimensions: The Best of C.L. Moore by James McGlothlin
The Best of John W. Campbell
The Best of C M Kornbluth
The Best of Philip K. Dick
The Best of Fredric Brown
The Best of Edmond Hamilton
The Best of Murray Leinster
The Best of Robert Bloch
The Best of Jack Williamson
The Best of Hal Clement
The Best of James Blish
See all of our recent Vintage Treasures here.