John W. Campbell Jr. and the Knack for Being Wrong About Everything
John W. Campbell Jr. and the Knack for Being Wrong About Everything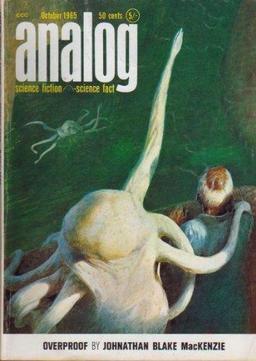 I've been listing copies of Analog (from a lot I acquired over the summer) on eBay for some time, and looking through them as I have. What strikes me forcefully — though of course I had been aware of it for years, being old enough to remember when JWC was still editing — is how John Campbell had an eerie ability to be wrong about just about everything, from Dianetics to the Dean Drive to supporting George Wallace in the 1968 election to the statement that television would never catch on because you'd have to stop what you're doing and WATCH it.
It goes on and on, rather relentlessly. Only in Analog would you find, as late as the 1960s, an article on the positive benefits of smoking.
The latest one I've come across is the editorial in the October 1965 issue, in which Campbell lambastes largely straw-men "Litteraeurs" on their inability to write, dismissing approved mainstream literature (about which I suspect he knew very little) as "sex in suburbia" and making the famous claim that he gets more printable manuscripts from Cal Tech or Harvard Law School than from the Harvard Literature department. "How come they keep turning out Literature graduates that can't sell stories?"
Of course the fallacy here is that the purpose of Literature departments is to turn out writers, and that "sell stories" means sell stories to Analog. I am sure the editors of The New Yorker or the major literary magazines would have had a different view. But this was a very common Philistine cant at one time. From at least the New Wave period, all the way up to the Sad Puppies, we have heard the complaint that these damned Literature majors are ruining Science Fiction.
That John Campbell was unquestionably a great editor while being so wrong about so many things is hard to explain — thought it does explain why the field seemed to be leaving him behind by the last few years of his life.
---
Darrell Schweitzer's last article for us was Donald Westlake's Famous Complaint.