Vintage Treasures: The Best of Murray Leinster
Vintage Treasures: The Best of Murray Leinster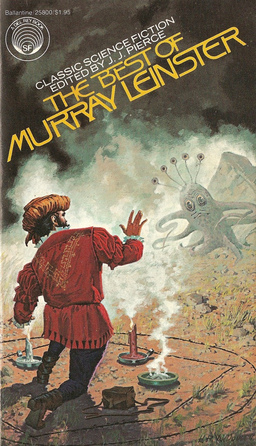 I first encountered Murray Leinster… wow, I don't even know when. Probably in The Hugo Winners, Isaac Asimov's 1962 anthology collecting the first short stories to win science fiction's coveted prize.
It featured Leinster's 1956 novelette, "Exploration Team," about a desperate rescue attempt on a distant planet — involving an illegal settler blackmailed into helping a lost colony, and his team of Kodiak bears. Lost colonies, deadly aliens, and even more deadly bears… that's the kind of story that sticks in your mind when you're twelve, believe me.
Leinster died in 1975; he published his last book, a novelization of the Land of the Giants TV series, in 1969. But he was a steady presence on bookstore shelves during my formative reading years for well over a decade after his death, with reprint titles like The Med Series (Ace, 1983) and The Forgotten Planet (Carroll & Graf, 1990).
The mass market reprints have tapered off over the last few years. The last were all from Baen, a trio of excellent collections all edited by Eric Flint and Guy Gordon: Med Ship (2002), Planets of Adventure (2003), and A Logic Named Joe (2005).
Since then, the wheels of publishing have ground on, as they do, abandoning Leinster by the side of the road. We did our part to keep his memory alive, of course. I reprinted one of Leinster's earliest pulp tales, "The Fifth-Dimension Catapult," from the January 1931 Astounding Stories of Super-Science, in Black Gate 9.
There have also been low-budget digital editions of his out-of-copyright pulp fiction, sure, but by and large the genre — as living genres should — has focused instead on new and emerging authors.
I used to think that was inevitable. Readers have long memories, but publishing industries don't, and when an author has been out of print for over a decade, she's likely to remain that way.
But the brilliant Lester del Rey, publisher of Del Rey Books, proved me wrong. In fact, he proved me wrong nearly four decades ago, with a fabulous line of top-selling paperbacks collecting the best short science fiction and fantasy from the writers of the Golden Age of SF — including The Best of Murray Leinster, a collection of some of the best short SF and fantasy of the 20th Century.
In addition to "Exploration Team," The Best of Murray Leinster includes the 1934 novella, "Sidewise in Time," the story which essentially invented the alternate history genre.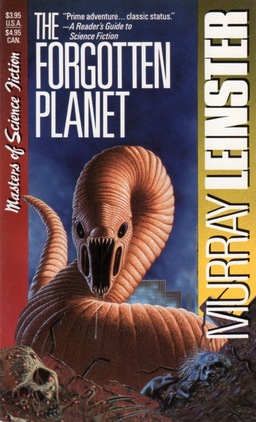 It's still one of the most famous SF stories ever written, and the Sidewise Award for Alternate History, established in 1995 to recognize the best alternate history of the year, was named in honor of it.
It also includes "The Fourth-Dimensional Demonstrator" a rather ingenious time travel story from 1935, and "First Contact" (1945), a classic tale of the tension-filled first contact between a human starship and an alien vessel.
One of the hallmarks of Leinster's fiction was that it was so different. The stories in The Best of Murray Leinster encompass classic space opera, time travel, marvelous inventions, thrilling explorations into the unknown, and laugh-out-loud humor. It's a testament to his skill as a writer that they are still enjoyable today.
Murray Leinster was a pseudonym for William Fitzgerald Jenkins, who wrote over 1,500 short stories and articles, over a dozen movie scripts, and hundreds of radio and television plays. In addition to his enduring SF novels, he also wrote over a dozen westerns, a handful of mystery and romance novels, and even a Far East adventure, Sword of Kings (1933).
Del Rey published more than a dozen The Best of… collections, gathering some of the finest fiction of the pulp era into paperback for the first time. The line included Stanley G. Weinbaum, C. L. Moore, C. M. Kornbluth, Philip K. Dick, Edmond Hamilton, Leigh Brackett, Eric Frank Russell, Fritz Leiber, Robert Bloch, Cordwainer Smith, and many others.
Over the next few months, I'll have a look at many of these volumes. They were essential to my discovery of SF and fantasy in my teen years, and they helped introduce me to many of the most important writers in the genre.
While many of the titles went through multiple printings and stayed available for years, they are now getting tougher to track down and becoming highly collectable.
Here's the complete contents:
Table of Contents
Introduction: The Dean of Science Fiction, by John J. Pierce
Sidewise in Time (1934)
Proxima Centauri (1935)
The Fourth-Dimensional Demonstrator (1935)
First Contact (1945)
The Ethical Equations (1945)
Pipeline to Pluto (1945)
The Power (1945)
A Logic Named Joe (1946)
Symbiosis (1947)
The Strange Case of John Kingman (1948)
The Lonely Planet (1949)
Keyhole (1951)
Critical Difference (aka "Colonial Survey") (1956)
The Best of Murray Leinster was edited by J.J. Pierce, and published by Del Rey in April, 1978. It is 368 pages in paperback, priced at $1.95.
So far we've covered the following volumes in the Classics of Science Fiction line (in order of original publication):
The Best of Stanley G. Weinbaum
The Best of Fritz Leiber
The Best of Henry Kuttner
The Best of John W. Campbell
The Best of C M Kornbluth
The Best of Philip K. Dick
The Best of Fredric Brown
The Best of Edmond Hamilton
The Best of Murray Leinster
The Best of Robert Bloch
The Best of Jack Williamson
The Best of Hal Clement
The Best of James Blish
The Best of John Brunner
You can find all of our recent Vintage Treasures articles here.